WRC 2015: Sebastien Ogier takes home win for Volkswagen at Rallye Deutschland
Sebastien Ogier won his sixth WRC rally of the season and his 30th career victory when he headed a Volkswagen 1-2-3 victory in the all-asphalt ADAC Rallye Deutschland, leaving the other WRC teams trailing far behind. VW drivers now hold the top three placings in the Drivers' championship as well. Hyundai drivers Dani Sordo and Thierry Neuville finished best of the rest, with Mads Ostberg's Citroen splitting the disappointing M-Sport team behind them. Jari-Matti Latvala hung on to his hopes of winning the world championship by finishing second behind his team-mate but his hopes become more remote by each rally that passes. Ogier is now expected to clinch his second successive World Drivers' title on the next event, Australia, where probably his team might win again the Manufacturers' title as well.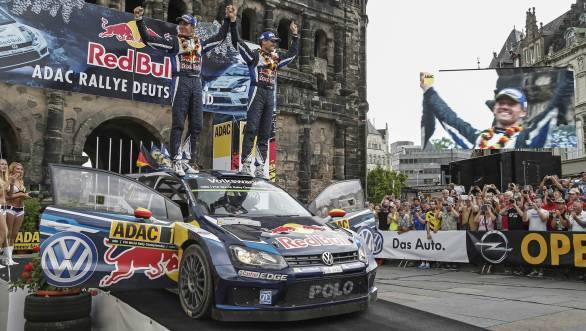 Sixth win of 2015 for Sebastien Ogier in the World Rally Championship
The German round of the WRC was the last unconquered frontier for the present-day VW team, the one event in the current WRC calendar they had not won. That final honour has now been claimed, and in what style! Until the final stage of Day 1, their cars were the three fastest cars on every stage, and until Elfyn Evans snatched a stage win on the less intense final morning they had won every stage. Latvala never gave up putting pressure on Ogier, but was not as consistent as it was for Ogier. Latvala edged ahead on the first morning for a couple of stages before Ogier's superiority became evident. On the second day Ogier prepared himself for the two runs over the 45km Panzerplatte stage, and on the second pass almost doubled his lead and had become unassailable. VW team orders remained clear, the drivers could do as they wanted, so long as they all finished the rally. Ogier ran as first car on the road for the first two days, in conditions where corner cutting made the roads marginally less attractive for later drivers. As the VW domination in Germany became clear, third driver Andreas Mikkelsen was given the task of using the later stages as a on event test for the next European WRC event, in Corsica.
Hyundai were present with four cars, with Sordo (despite gear selection problems) enjoying a close battle with Neuville who showed good form after a series of recent lacklustre events. Their two second team drivers Hayden Paddon and Kevin Abbring both had troubled events. Paddon had a lot of handling problems and then lost time with a turbocharger problem but struggled on to finish ninth overall, Abbring had differential problems and was then troubled with the power steering to come 11th. Citroen relied on Kris Meeke for a top placing and on the Friday morning he was the top non VW driver but then went off the road and damaged a compression strut which dropped him down to 25th place. Once again everything then rested on Ostberg. He was not able to test in Germany before the event and was driving a 2015 specification DS3 WRC for the first time on asphalt. He gradually gained confidence but he was already far behind the leaders and finally became engaged in a battle for sixth place with M-Sport driver Evans.
M-Sport meanwhile was not enjoying the rally when Ott Tanak went into a field on the first stage of the rally. He fought back to seventh place behind Evans, but on the second run at Panzerplatte he lost more time off the road and had a delay restarting his engine. Finally Tanak finished eighth. Of the M-Sport privateers, Lorenzo Bertelli decided not to start after suffering food poisoning during the recce. Robert Kubica started with a five minute penalty for having to change his engine after Shakedown. On the rally Kubica had a dramatic high speed diversion into a vineyards which smashed his windscreen. Later on the second Panzerplatte stage he damaged the suspension and stopped. Martin Prokop also had a torrid time, finally retiring on the final morning when he had two punctures but carried only one spare wheel. In a private run Citroen DS3 was Stephane Lefebvre driving a world rally car for the first time, the first of two such promised drives and he drove well to score a second fastest time during Day 2 and eventually finished tenth overall.
Ogier en route his victory at Rallye Deutschland ahead of his VW team-mates who locked out the podium
In the Drivers' championship behind the top three VW drivers, Ostberg leads Neuville with Evans lying sixth. In the Manufacturers' series the battle behind VW is for runner-up honours with Hyundai leading Citroen by 13 points with M-Sport lying fourth ten points further behind.
This was a critical event in the WRC2 category where the rules limiting how often drivers can score started to complicate the season. Nasser Al-Attiyah changed to a Skoda Fabia R5 for this event, Nil Solans replaced Bernardo Sousa in the ACSM team, making his debut appearance in the category in a Peugeot 208 T16 R5. After Al Attiyah was quickest WRC2 in Shakedown he had an engine failure and then on Friday he went off the road and lost over a minute on the opening stage. On the next stage Esapekka Lappi went off the road for the fifth time in six asphalt events. Lappi's Skoda teammate Jan Kopecky was already in a lead he held till the end, on his first Deutschland Rally for nine years. Armin Kremer (Skoda) retired with oil pressure failure but Craig Breen (Peugeot) was happy, it was the first time he had reached the end of Day 1 on a rally since Monte Carlo! Breen dropped back with a puncture on Day 2. Kopecky finished Day 2 four minutes ahead of Eric Camilli (Ford), Quentin Giordano (Citroen) and Al Attiyah. The Peugeots of Jonathan Hirschi and Martin Koci stopped with clutch problems and alternator belt failure respectively. Nasser gave up hope of gaining a WRC2 podium result. In the championship standings Al Attiyah retook the lead in the series from Lappi, by just two points, with Ketomaa now lying third.
This event did not qualify for the FIA Junior championship, and consequently there was a very slender WRC3 entry of just two cars, the Clio Turbo of Andrea Crugnola and the Toyota trainee driver Teemu Suninen in a Citroen DS3 R3T. With the approval of the FIA Suninen moved from WRC3 to WRC2, changing his car to a Fiesta R5, leaving just one competitor in WRC3. Crugnola came through safely to secure maximum points. Quentin Gilbert still leads the WRC3 category but Crugnola's result has elevated him up to third place.
Another disappointment was that there were only two R-GT cup entries in this the third of five qualifying rounds, driven by Francois Delecour and Romain Dumas. Dumas' car featured a novel colourful design, filled with momentoes of his long series of successes on the racetracks of the world. The FIA allowed the R-GT cars to run this time right behind the World Rally Cars and ahead of WRC2 cars but Francois Delecour left Dumas in charge when he went off the road on the first day.
Nicolas Amiouni and then Edoardo Bresolin (who claimed a contractual disagreement) withdrew while Nil Solans moved up to WRC2 and was replaced by Tim Novak from Slovenia. After an initial battle with Tom Cave, Ghislain de Mevius took the lead which he held to the finish. Series leader Marius Aasen clipped a wall on the first day and he eventually finished fifth. Four of the nine starters retired including Tom Cave who had a big accident. Standings in the series sees Marius Aasen maintain his lead over Vatanen, while Tom Cave holds third ahead of event winner de Mevius in fourth.