WRC 2014: Toyota GT86 CS-R3 will be seen at Rallye Deutschland
There's been so much talk of more manufacturers coming into the World Rally Championship, and a considerable amount of that talk has revolved around Toyota in the WRC. The Japanese manufacturer has finally announced that they will definitely compete in the ADAC Rallye Deutschland, the ninth round of the FIA World Rally Championship held between the August 21 and 24.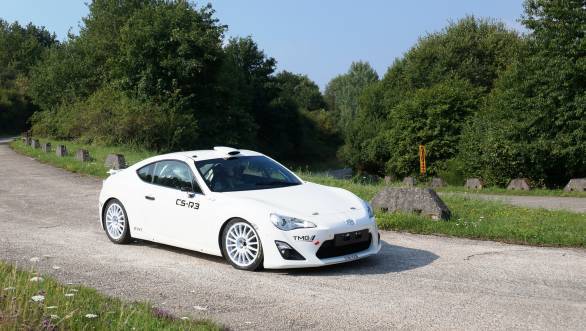 Toyota will bring in their new GT86 CS-R3, the car that is being made available as a cost-effective way for privateers to go rallying, primarily for evaluation purposes at the stages of Rallye Deutschland. But the car, piloted by double woman's world rally champion Isolde Holderied, will not be competing in the event, instead will be run as the pathfinder or zero car. The aim is to evaluate the performance of the car in rally conditions so that all glitches can be ironed out ahead of homologation to international R3 competition criteria.
The Toyota GT86 CS-R3 has been developed by Toyota Motorsport (TMG) and will be powered by a modified 2.0-litre boxer engine that produces a power output between 240 and 250PS. This is mated to a sequential shift six-speed transmission. The car also comes with a limited-slip rear differential and a weight-optimised safety cage as per the FIA's requirements. The motorsport engine ECUs have been sourced by the manufacturer, while the tarmac and gravel suspension kits have been developed in house.
Toyota says that the first customer car kits will be made available during the first quarter of 2015, and while they haven't yet announced the exact pricing of the cars, they have said it won't be very different from that of the other R3 cars available.
Nico Ehlert, TMG Principal Engineer – Customer Motorsport, said: "It's important to say that the GT86 CS-R3 which Isolde will drive is not the finished article; we need the data from Rallye Deutschland to finalise our development programme. But it does represent a significant step in the GT86 CS-R3 story and gives a clear indication to our future customers that this project is progressing quickly."
And while it is all very well that Toyota is making a return to the WRC starting next year, if only as a part of their customer programme, what we really want to see is when they'll come into the full-fledged World Rally Championship, giving Volkswagen and Hyundai a run for their money. Given their history in the WRC, and given that they have a fairly strong programme in the World Endurance Championship, this is the right time for them to break into the sport.