WRC 2014: Sebastien Ogier victorious at Rally Poland
The Ogier WRC steamroller trundles on, but once again victory was not straightforward, and it came with a little bit of luck. On the first nine stages to be run, there was another titanic battle between two VW drivers, this time Sebastien Ogier and Andreas Mikkelsen, which brightened up a misguided decision to run some stages in neighbouring Lithuania, but once the rally went back to Poland there was excitement almost all the way. There were end-to-end dominations in the support WRC2 (Ott Tanak, Fiesta R5) and WRC3 (Stephane Lefebvre, DS3 R3T) and near-domination by Sander Parn in the DriveDMack Fiesta R2 category.
After Mads Ostberg damaged his suspension, top non VW driver was Thierry Neuville, scoring his second podium result of the season in a Hyundai and scoring a stage scartch time for the fourth successive time. The return of the WRC to Poland after a five year break was well received with large spectator crowds in weather, which despite forecasts, was mostly sunny and dry but all three top Polish World Rally Car drivers went on their roofs.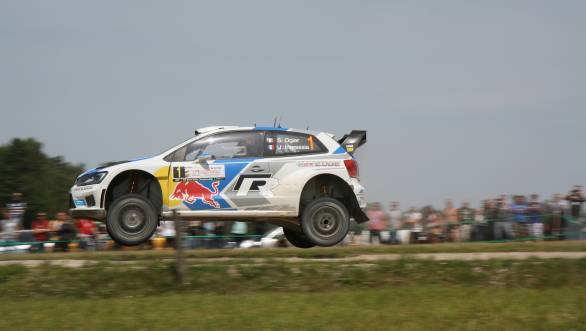 The Volkswagen R WRC of Sebastien Ogier and Julien Ingrassia airborne at the Goldap stage
With insanely fast and absurdly soft stages laid out in the otherwise delightful Lithuania, the consent by the FIA for the cross-border project was a surprise, one extra risk considering the ever present risks involved in the already weather-sensitive stages in Poland. Luckily the weather which damage-struck the ERC event over similar stages last year was absent. This year the Polish stages provided good competition highlighted by a series of dramas on the long Goldap stage on Saturday, when many drivers suffered impacts with roadside stones. Among these were Mads Ostberg, whose Citroen was the only car to seriously challenge the VWs, Kris Meeke whose impact with a rock launched his car off the road and whose return to the track caused Jari-Matti Latvala to suffer suspension failure, from which he recovered to finish fifth.
Latvala had struggled early on but in the later stages, which were similar to those back home in Finland. he was happier and his score of five scratch times was eventually only bettered by Ogier. Other rock impactors were Robert Kubica who pulled off a wheel having already survived a roll during the Thursday evening, Elfyn Evans who spoiled an otherwise sensible drive in tricky conditions and Henning Solberg who punctured. Even Ogier in reality was a little guilty with his clear run, "We touched the famous stone which caused so much trouble for the others but we were more lucky, though it was only by a matter of millimetres …"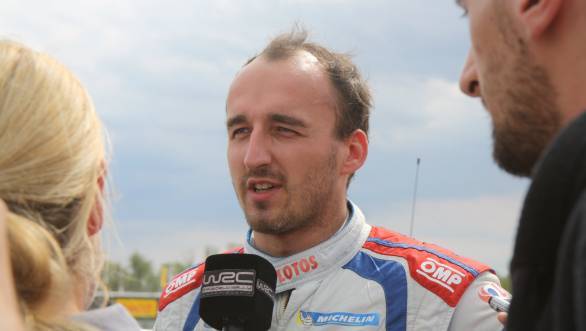 It was disappointment for Polish rally fans as home hero Robert Kubica crashed out
This was one more rally full of promise for the Hyundais, with hopes for homologation of engine improvements to come in time for the next WRC event in Finland. For almost half the event their team drivers Thierry Neuville and Juho Hanninen held potential podium positions and on Friday morning Hayden Paddon had been lying sixth. To finish the best non VW for the second time this year already, at this stage of their first season with the i20WRC was an immensely impressive achievement. Citroen were disappointed that Ostberg was unable to keep up with the fight against Latvala, and his car was forbidden from restarting because of a damaged rollcage, rolling after his impact. And then when Kris Meeke, who had started off brilliantly in third place, started to slide back in the progressively worsening conditions in Lithuania. The Ulsterman pulled back from eleventh to seventh at the finish. Citroen's miseries were echoed over at M-Sport where Mikko Hirvonen, winner of the 2009 Rajd Polski, started off very unhappily, having uncharacteristically misjudged his pacenote writing, and started to score representative times only on the Saturday afternoon. Until damaging his suspension Evans had been in tenth place but eventually ended up 35th overall and one position outside the manufacturer points.
Right from the start the rally was never short of interest, notably the amazingly high speed on the fast stages at the start of the rally. Each time the fastest stage was won by Mikkelsen. Non-manufacturer team drivers did not fare so well, the highest place being the irrepressible DMack tyre privateer Henning Solberg in ninth place and Martin Prokop whose tenth place was his worst result since Sweden, while local privateers Michal Solowow and Krzysztof Holowczyc ended their rallies after going upside down. Kubica recovered after his suspension damage to finish 20th.
Ogier had been happy all weekend after discovering his Day 1 running position was no great handicap this time. "It has been the perfect weekend for me. I had a lot of fun. The stages were really nice this weekend, so high speed all the time, and I really enjoyed to drive my Polo here". Nice to see a happy champion! It was his 21st world rally win and VWs eleventh successive victory. But, he had to work hard for success (in the first four stages the lead of the rally changed between every stage except one) and once or twice he showed his legendary champion's lucky skill in avoiding the disasters of his rivals. VW now holds a 147 point lead in the Manufacturers series while Ogier leads a VW 1-2-3 in the Drivers series by 50 points.
Ott Tanak drove an impressive event in WRC2 with his Fiesta R5 DMack teammate Jari Ketomaa second all the way. Battling for third place initially were Tanak's fellow Estonians Martin Kangur (Fiesta S2000) and Karl Kruuda (Peugeot 208 T16 R5) until Kruuda, fighting engine problems, lost control and rolled end-over-end. Kangur then held third place but later went off. In the end Yazeed Al Rajhi's Fiesta RRC was third in the category in front of the Mini RRC of Valeriy Gorban, who finished in a very encouraging fourth place. Chasing all three of them had been Sebastien Chardonnet (Citroen DS3 R5) until he went off the road and damaged his radiator. Chardonnet restarted under Rally2 rules and finished one place outside the championship points. Until Kruuda's exit, it had been a fascinating renewed fight between the two new French R5 cars, in which the previous WRC event in Sardinia Chardonnet had finished higher up. Rashid Al Ketbi went off on the penultimate stage on Day 2. The Production Car section was won by Max Rendina for the fourth time this year after Juan Carlo Alonso missed stages on the Saturday when his car was damaged after finding a tree lying in the road. In the championship the top three places are now held by R5 drivers, with Bertelli ahead of Protasov with Jari Ketomaa now in third, using Pirelli, Michelin and DMack tyres respectively.
Another domination came in WRC3 where Stephane Lefebvre scored his second major category win (after Ypres) in a week, though this time by a much greater margin. The combined all-Citroen DS3 FIA WRC3 and Junior divisions saw a fight for second place between Simone Tempestini, who went off, and Martin Koci, who lost a lot of time early on Saturday with a broken wheel. This let Alastair Fisher into second place which he held to the finish. It was all change in the championship standings with Lefebvre holding a 22 point lead.
Dominating most of the all-Fiesta R2 DriveDMack competition was Sander Parn who finished exactly a half minute in front of the early leader Tom Cave ahead Yeray Lemes and Max Vatanen. Retirements included Jose Suarez (engine), Ghislain de Mevius and Quentin Gilbert (both accidents).
Price (Ex-Delhi)
Starts Rs 6.17 Lakhs