World's highest charging station inaugurated in Kaza, Spiti Valley
A start-up located in Pune goEgoNetwork that specialises in EV charging stations has placed Bharat AC and Dual Socket Type 2 chargers in Kaza, Spiti Valley, in the western Himalayas, making it the world's highest EV charging station.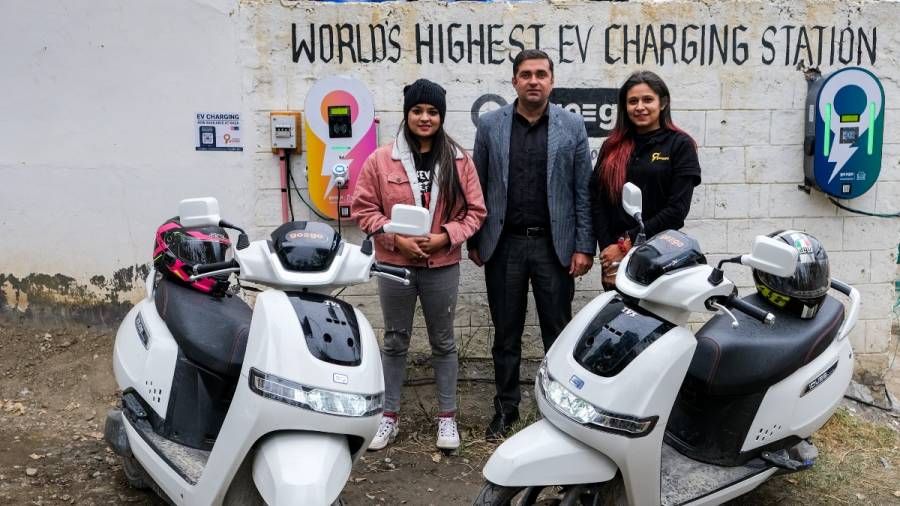 To commemorate World Zero-Emission Day on September 21, 2021, the #mission0emission trip began from Manali to Kaza on two TVS iQube Electric scooters. TVS Motor Company and goEgo partnered to promote EV infrastructure in Himachal Pradesh.
Maanvi Rawlley, Marketing Communication Specialist at goEgoNetwork and Pratiksha Das, a motorcycling influencer from Mumbai, rode the TVS iQube Electric scooters. The journey took the motorcyclists across the perilous Manali-Kaza road, a renowned riding path in India that passes through the beautiful Kunzum-La pass.
The two riders arrived in Kaza to inaugurate the goEgoNetwork EV charging stations. Mahender Pratap Singh, SDM Kaza, unveiled the charging station with the two female motorcyclists. He complimented the riders and said, "Himachal Pradesh government is keen to promote zero-emission and sustainability towards a greener future."
In an effort to make India a 100% EV nation by 2030, goEgoNetwork is devoted to establishing public charging stations in India's most popular tourist locations!
Bharat AC and Dual Socket Type 2 chargers are ARAI and OCA certified and have Make-in-India certification. The charging station can be found at Hotel Dayzor and is equipped to power all-electric scooters and vehicles.
Pratiksha Das said, "This has been an eye-opening experience for someone like me too, who has spent a lot of time around bikes. The TVS iQube Electric scooter took on the dangerous road from Manali to Kaza via Batal, without a single hiccup. We rode over rocks and boulders, and even under demanding weather conditions, the scooters took everything in their strides."
Also Read:
Feature - TVS IQube In The City
Price (Ex-Delhi)
Starts Rs 98,564