Motorsport's most impressive women
If numbers are anything to go by, there certainly aren't as many women competing in motor racing as there are men. But even among that relatively small list, a few women truly stand out. Here's a look at the women who've done the sport proud.
Ana Carrasco

Ana Carrasco is possibly one of the most prominent names in motorcycle racing at the moment. Carrasco began riding a mini moto at the age of three. Once she began racing, she rapidly rose through the ranks, moving to the FIM CEV International Championship in 2011, where she became the first woman to score championship points in the series. Carrasco also became the first woman to score points in the Moto3 World Championship in 2013. She then became the first woman to win an individual world championship motorcycle race, when she finished first at the Algarve International Circuit that year. In 2018, Carrasco had a strong season in the World Super Sport 300 championship, competing with the DS Junior team. She entered the season finale at Magny Cours with a 10-point advantage over her nearest rival. It was a difficult race, but a 13th place finish in that race ensured that she took home the championship title, becoming the first female rider to win a solo world championship title on two wheels. In 2019, Carrasco finished third in the championship.
Laia Sanz

Laia Sanz is not just a Dakar regular, but she's got the impressive distinction of having finished every single Dakar that she's started, 10 times consecutively! The Spaniard has 13 Women's World Trail Championship titles under her belt. She's also won the Women's Trial European Championship 10 times, won the Women's Trial Spanish Championship eight times. In 2015, Sanz finished ninth overall at the Dakar - her best performance at the event to date. And in 2019, despite the fact that she hadn't been on a motorcycle in several months, having suffered a bout of Q fever, the KTM Factory Racing rider managed to finish a strong 11th overall. The tragic events that unfolded at Dakar 2020 meant that Sanz slowed her pace during the second half of the event, but still overcame numerous difficulties and finished 18th overall. We'd like to see her break into the top 10 again soon. Maybe even on the podium, or winning the Dakar overall someday too!
Maria Teresa de Filippis
The first woman to race in Formula 1, Maria Teresa de Filippis really is a pioneer when it comes to women in motorsport. Not only did she race at a time when it was quite unheard of for women to go motor racing, she also earned the respect of her fellow competitors by winning in varied racing series. Funnily enough, Maria's career in motorsport really only started out when her brothers made a bet with her that she would be too slow for motor racing. Turns out, accepting the bet was the best thing that ever happened to her, because she won her first-ever race in a Fiat 500. Then there really was no looking back, only the occasional glance in her rearview mirror to ensure that a fellow competitor didn't creep up behind her to steal her spot on track. The 1954 season proved to be a turning point in de Filippis' career when she finished runner up in the Italian sportscar championship. This was enough to get her noticed by the Maserati team, who recognised that she really was one to watch out for. Out came a contract, and a quick signature later, she had been signed on as a works driver for the team. She proved her worth to Maserati with podiums, including second place at the sportscar race run as a support race at the 1956 Naples Grand Prix, behind the wheel of a Maserati 200S.
Lella Lombardi
Of the handful of women who actively competed in Formula 1, Lella Lombardi was the most successful. Her stint in Formula 1 wasn't restricted to the odd race here and there. She competed steadily between the 1974 and 1976 seasons, taking part in 17 Grands Prix, with 12 race starts to her name. Lombardi also is the only woman in the history of the sport to have a points-scoring finish. Her results in sportscar racing are also certainly worthy of praise.
Desire Wilson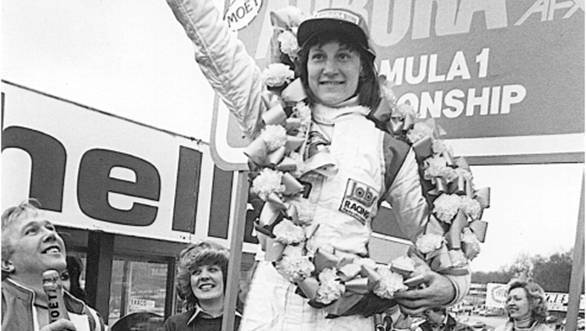 Desire Wilson is widely acknowledged as one of the most successful woman in the history of motor racing. When she won at Brands Hatch in 1980 in the British Formula One Series, she became the only woman in the world to win in any manner of Formula 1 racing ever. Although it was a non-championship F1 race, the fact that Wilson won the race thanks to her skill behind the wheel counts for a lot. There's also the fact that Wilson is the only woman to hold a license that allowed her to compete in CART Indycar events as well as an FIA Superlicence that allowed her to compete in Formula 1. Victories at the Monza 1,000km and at the Silverstone 6 Hours World Championship race also add to her racing laurels.
Michele Mouton

In our books, Michele Mouton is easily the greatest woman driver in the history of motorsport. In 1975, she won the 2.0-litre prototype class of the 24 Hours of Le Mans. In 1977, she finished second in the European Rally Championship. In 1985 she won the Pikes Peak International Hill Climb, setting a new record along the way. She then won the German Rally Championship in 1986, becoming the first woman to win a major rally championship. She also has four World Rally Championship wins to her credit, and finished second overall in the championship in 1981. One of her most significant contributions to motorsport, however, is that she is one of the co-founders of the Race Of Champions. And we love the Race Of Champions!
Jutta Kleinschmidt

It's impossible to have a list of women in motorsport and not have Jutta Kleinschmidt feature in it. She became the first woman to win a stage in the Dakar in 1997. The following year she was the first woman to make it to the podium at the Dakar. And then, in 2001, Jutta Kleinschmidt, navigated by Andreas Schulz, became the first and only woman to win the dreaded Dakar Rally. Respect.
Leena Gade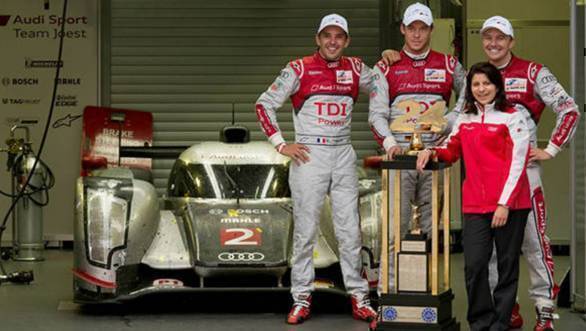 She might not be a driver, but Leena Gade's role within motorsport is extremely critical. If she hadn't been Audi's race engineer at Le Mans, we suspect the trio of Treluyer, Lotterer and Fassler might not have three Le Mans wins to their name. Her car won Le Mans in 2011 and followed it up with victory at the race in 2012 as well. In 2014, they managed to take their third 24 Hours of Le Mans win, along with claiming the title in the World Endurance Championship. Gade is undoubtedly one of the most successful road racing engineers in the world. She's since held various roles, including heading Bentley's motor racing operations, had a brief stint working in Indycar, and now is a race engineer with the Mazda Team Joest in the WeatherTech Sportscar Championship.
Monisha Kaltenborn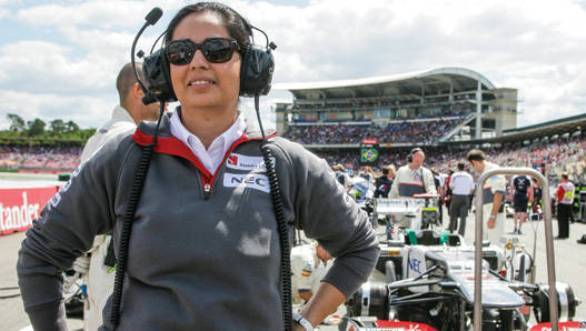 Between 2012 and 2017, Monisha Kaltenborn was one of the most significant women in the Formula 1 paddock, heading the Sauber F1 team. She was CEO of the Swiss-based F1 operation, and when founder and team principal of Sauber, Peter Sauber retired from his role as team principal, Monisha assumed the mantle. This, of course, made her the first female team principal in Formula 1. She returned to motorsport in 2018 with the KDC Racing team, a joint venture that saw her partner French-Monegasque businesswoman Emily di Comberti. However, a few months after the team's launch, financial matters arose, as a result of which the team folded. But she's still very significant for her pioneering role in Formula 1.
Claire Williams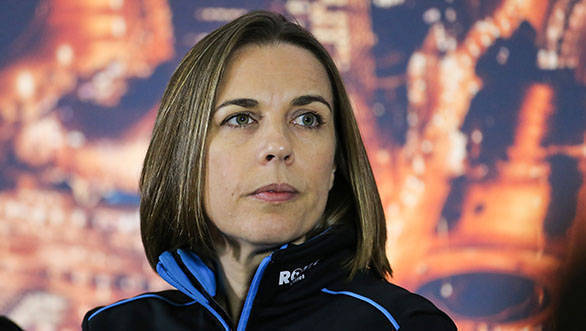 Currently the only woman in charge of a Formula 1 team, Claire Williams serves as the deputy team principal of the Williams Formula One racing team, founded by her father Frank Williams. Given that she grew up in motorsport, it was unlikely that Claire wouldn't be part of racing in some way. She first started out with a role as press officer for the Silverstone racing circuit, moving to a communications role for Williams in 2002. In 2011, she was promoted to director of marketing and communications within the team. In March 2012, Claire became the Williams family representative on the board, and in 2013 she was appointed deputy team principal of the Williams F1 racing team. She's had to shoulder a fair amount of the blame for the team's far from ideal performance - especially in 2019 - but 2020 is a new year!
Navaz Bhathena
It is impossible to have a list of women in motorsport, and not have Indian racer Navaz Bhathena on the list. Navaz is a pioneer as far as Indian women in motorsport go. Her mother Katie Bhathena, and father Darius Bhathena both raced, as did her brother Farhad Bhathena. Navaz, even today, is very likely the quickest woman in all the country. Back when she'd just managed to get her driver's license, Navaz's brother decided she simply must race. So she did, winning her first event too. When she made her rally debut at the MASA rally in 1987, despite several mishaps, she was awarded the rookie of the rally trophy. And in the years that followed, she gave the boys tough competition. In fact, she was so good that she even got a sponsored rally drive in a Mitsubishi Starion in Europe. She might have hung up her rallying shoes some years ago. But there's no denying her speed and ability in a racecar and rally car alike.
Aishwarya Pissay
Aishwarya holds the distinction of being the first Indian athlete ever to win an FIM world title in motorsport. Back in 2019, Pissay secured 1st place in the women category and 2nd place in the junior category of the FIM Bajas World Cup. Her domestic record is pretty impressive too - she has a total of six national titles in circuit racing and rallying combined. Of these, four are for circuit racing, and the two wins in the National Rally Championship were secured in the 2016-2017 season, and in 2018. Back in 2018, Pissay also competed in the Baja Aragon World Rally in Spain. A crash left her with severe injuries, including a ruptured pancreas, that she did well to recover from. Pissay has always said her goal is to some day represent India at the Dakar, which may well happen!
There are more female racers around the world doing very well - for example Jamie Chadwick, Emma Bristow, and a multitude of women in the W Series. Not to forget young Juju Noda, who will make her Danish F4 debut this year. And the scenario back home is quite promising - Mira Erda has graduated from karting to now competing in single-seaters, as has Sneha Sharma. We're hoping to see more women in Indian motorsport soon too!