Why the price difference between the Skoda Karoq and VW T-Roc?
So, how come the Skoda Karoq is priced at Rs 24.9 lakh, while the Volkswagen T-Roc carries a sticker price of Rs 19.9 lakh (both ex-showroom)? Both are relatively new cars, having being launched internationally towards the end of 2017, and both are based on the same modular MQB-platform, and even share certain components.
They're both exclusively available with a 1.5-litre TSI petrol engine (with the segment-first cylinder deactivation tech) and a twin-clutch automatic gearbox, and though available with all-wheel drive internationally, are only front-wheel driven here. They're also sold in just one fully-loaded variant, packed with everything from dual-zone climate control, to fully-digital instrument clusters and panoramic sunroofs. To top it off, they're both CBUs, with similarly high levels of fit/finish. With so many commonalities, how does such a large price differential come in? Is it all down to positioning, or individual manufacturer's earnings? To understand it, you have to look a bit further and delve deep into the specifications.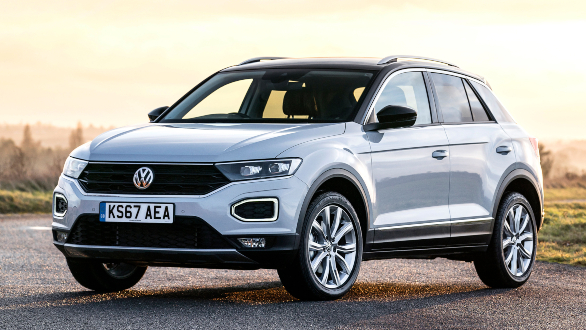 For starters, there is the perceptible difference in exterior dimensions of the two cars. While both are on the same platform, utilising the same chassis, this does not mean dimensions have to be identical. The T-Roc, at 4,234mm long on a 2,590mm wheelbase, is 148mm shorter in overall length, and 48mm shorter between the wheels. The Karoq feels marginally more spacious inside the cabin because of that advantage, but only a thorough set of measurements will let us know by how much. The near-15cm length (or, the size of an iPhone) advantage on the Karoq also translates into a 521-litre boot, which shows a 76-litre advantage in cargo-carrying capacity over the T-Roc.
As for the all-important features list, the T-Roc is also well-appointed, but it does miss out on a few key features expected at its price point, like an electrically-adjustable driver's seat and cruise control. These are offered on similarly priced competitor variants so it begs the question, why not on the T-Roc? This brings into question the route Volkswagen has adopted to offer the T-Roc in India, which is as a CBU or as a completely built-up unit. This means higher taxes, and one way of off-setting that taxation is to strip off some equipment. These permutations and combinations are worked on by product planners much before any scheduled launch. Skoda, on the other hand, has opted to offer more equipment, with the understanding that its consumers will accept the higher cost that it would command.
To reinforce the point made previously, the T-Roc offers six airbags which is par for the segment, while the Karoq goes a step further with nine airbags in total. Whether you want six or nine airbags, or simply put, whether you want a larger safety net, or not, for your family is entirely up to you. And so, all these differences no doubt contribute to the price gap.
In the end, the extra one would need to spend on the Karoq translates to a marginally more spacious SUV with better-finished interiors, while the more affordable T-Roc has its standout design on its side. To many, including me, the Karoq's higher price tag is hard to justify, especially without first experiencing both from behind the wheel.
To make things more interesting, SUVs like the Hyundai Creta and Kia Seltos are priced within Rs 3-4 lakh of the T-Roc, and offer more space and features too, but not the bragging rights associated with the CBU tag and VW badge. For the Karoq, it's a similar price gap to the larger Hyundai Tucson (which has a facelift coming soon) and Jeep Compass, both of which also offer the choice of all-wheel drive if you don't mind an oil burner. All of this gives more power to you, as a buyer, with strong choices now available through the Rs 20-30 lakh price bracket. And you can be sure that a detailed comparo with a definitive verdict is coming your way soon, which will also shed further light on the price differential.
When the VW Taigun is launched in 2021, it will boast of the longest wheelbase in its class, at 2.65m long...
Until the production version of Skoda's Vision IN comes out, with a wheelbase that's said to be a hair longer, at 2.67m long
Till that happens, do let us know what your priorities are as a car-buyer, and if the Karoq and T-Roc meet them. Also, it would be prudent to mention that both manufacturers have their localised C-SUVs coming in a year or two, in the form of the VW Taigun and production-Skoda Vision IN, which promise to be far more competitively priced. We have our fingers crossed, just as you probably do.
Price (Ex-Delhi)
Starts Rs 24.99 Lakhs
Price (Ex-Delhi)
Starts Rs 9.99 Lakhs
Price (Ex-Delhi)
Starts Rs 27.69 Lakhs
Price (Ex-Delhi)
Starts Rs 17.79 Lakhs
Price (Ex-Delhi)
Starts Rs 9.95 Lakhs
Price (Ex-Delhi)
Starts Rs 21.35 Lakhs