Watch: Motorcycles and scooters coming to India in 2014 - Part I
2014 promises to be an exciting year in terms of new motorcycles coming to India. 2013 was a good year because probably for the first time in India, the focus shifted from small, value for money, affordable, entry level motorcycles to bigger, more exciting, performance driven bikes. 2014 will see the trend pick up and we will be among the largest markets in terms of the sale of middleweight motorcycles - that is 250cc to, say, 900cc.
Shumi, in a three part video series, lists out the motorcycles that are coming to India in 2014. In this first video, he is talking about the plans by Bajaj, Hero and KTM in India - Pulsar 200SS, a more powerful Impulse, an Erik Buell perhaps, the KTM RC Series, a KTM Supermoto are only some of the bikes from these three manufacturers expected here in 2014. Let's take a look.
Not very significant launches are expected in the commuter segment. The three main players - Honda, Hero and Bajaj - will come up with their usual updates. Hero in November last year announced 15 new updates, which will continue to roll out during 2014. Read more about the Hero updates here. Bajaj may come out with a few more Discovers. The Bajaj Pulsar 150, which is slightly more premium motorcycle as compared to those we are referring to in the commuter segment, is also due for an update this year.  Honda came out with their Dream series of motorcycles in 2013 and we expect more upgrades and variants of the 100cc Dream platform and 125cc Shine platform in 2014.
200cc and above
BAJAJ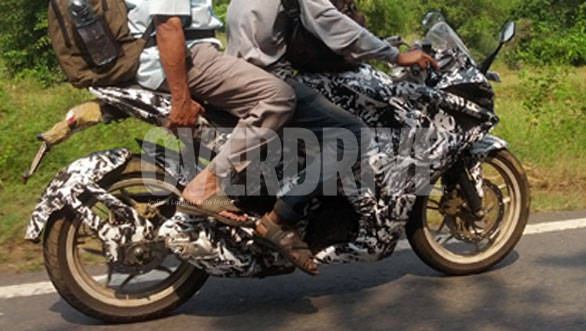 2013 Bajaj Pulsar 200SS
Bajaj Pulsar 200SS: The spy shots of the Pulsar 200 supersport are already up on our website. It is likely to get a slightly more powerful engine than the Pulsar 200NS with fuel injection. Expect the 200NS to come with fuel-injection as well.  Although there is no confirmation, but you can expect a 375cc Pulsar to be unveiled towards 2014 end as well.
HERO
Pawan Munjal with (from left) the Hero Splendor iSmart, Hero Xtreme, the ZMR, the Karizma R and the Pleasure at the November unveil
Impulse: Expect the Hero Impulse to get a more powerful 200-250cc engine, most likely from the Karizma.
Karizma: An updated Karizma R and ZMR are also on their way. It will be primarily a facelift with a bit of engine tuning.
EBR 250: The motorcycle from the stables of Erik Buell Racing is expected to come to India this year, but there is no clear indication when. Our guess is sometime towards the end of the year.
EBR 1190 RX: If Hero decides to get aggressive in India, expect the Buell 1190 RX to start selling in India. To know more about the EBR, click here. It has two more variants and we are hoping that they'll come to India to.
2014 EBR 1190RX
KTM
RC Series: The KTM RC 390 and the KTM RC 200 will be produced and launched in India this year. The KTM RC 125 will also be produced here, but chances of it being sold here are dim primarily due to the pricing. Read full report here.
KTM will also be coming out with the KTM 390 Supermotard in 2015.
Motorcycles and Scooters coming to India in 2014 - Part II
To find out the plans of TVS, Mahindra, Hyosung, Yamaha and Honda in India for 2014, click here.
Motorcycles and Scooters coming to India in 2014 - Part III
To find out the plans of Harley-Davidson, Indian Motorccycles, Triumph, Ducati, Suzuki and Royal Enfield in India for 2014, click here.
Keep an eye on our FB page http://www.facebook.com/odmag and twitter account https://twitter.com/odmag for more updates on the two-wheelers coming to India in 2014.
Price (Ex-Delhi)
Starts Rs 1,82,000
Price (Ex-Delhi)
Starts Rs 2,09,000
Price (Ex-Delhi)
Starts Rs 3,14,000