VW reveals the 2022 Golf R, the most powerful Golf ever
Volkswagen has revealed the most powerful iteration of the eighth-gen Golf yet, the 2022 Golf R with 320PS and 420Nm of torque. With standard 4Motion all-wheel drive and a 7-speed DSG, it's also the first new-gen Golf with AWD, and its 0-100kmph time of just 4.7 seconds, makes it the quickest one so far, also beating the previous-gen Golf R by a couple of tenths of a second. Top speed is electronically limited to 250kmph, though an optional R-Performance package ups that to 270kmph, and adds a larger rear spoiler.
The Golf R differentiates itself with blue styling elements and a blue illuminated light strip between the headlights. It also sits 20mm lower than the GTI (10 per cent stiffer spring rates as well), with a more serious looking front splitter, rear diffuser, and quad-pipe exits. The most fetching part of the new Golf R, though, would have to be the optional full-exhaust system by Akrapovic. VW has also managed to cut unsprung mass (1.2kg) from the braking system, with larger rotors up front and an upgraded master cylinder.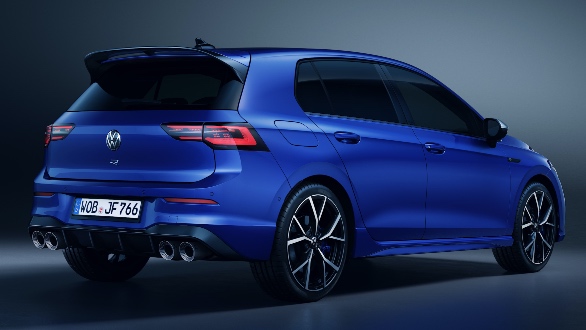 Not long back, VW announced the GTI Clubsport with 310PS, front-wheel drive and a Nurburgring-specific drive mode. The Golf R takes it further, including the 'Ring Special mode, and a Drift mode, now accessible through torque vectoring that can also split torque between left and right rear wheels for the first time, in addition to its front-rear split. This new Golf R is said to lap the Nordschleife in 7 min 32 sec, up to 19 seconds quicker than its predecessor. For reference, the quickest front-wheel drive production car at the 'Ring is the Renault Megane RS Trophy R, at 7 min 40 sec.
With the new-gen performance Golfs, VW's also added a Vehicle Dynamics Manager (VDM), which ties in the other electronics in the car, and the XDS electronic differential locks, to provide quicker, more precise dynamics at all times. For the Golf R, engineers have also added more negative camber (-1.3 deg) for the front wheels, for sharper turn-in and better mid-corner traction. Powering the new Golf R is the same 2-litre EA888 (evo4) turbo-petrol, that's also in the base Golf GTI model, where it produces 245PS/370Nm.
Also read, 
VW Golf Clubsport debuts with 310PS
Eighth-get VW Golf GTI unveiled