VW Motorsport India reveals rear-wheel drive Polo track toy!
After what was possibly the sneakiest of teasers, VW Motorsport India has finally taken the wraps off their latest machine – a rear-engined, rear-wheel drive Polo. Undertaken as an engineering exercise between racing seasons, and thus christened a 'winter project' by VW Motorsport, it was developed in-house by the team based at the VW plant in Chakan, Pune. It also marks the tenth anniversary of operations for VW Motorsport in India, tracing a development route back from the Ameo, to the Vento and to the very first Polo Cup cars.
The Polo 'winter project' is for track use only, and borrows the 1.8-litre TSI and sequential racing gearbox from the current season's Ameo Cup car, except the engineers have relocated it to the rear of the car. In order to do so, the fuel cell was moved from the boot of the car to under the hood. Accordingly, the turbo intercooler is situated where the rear seats would be.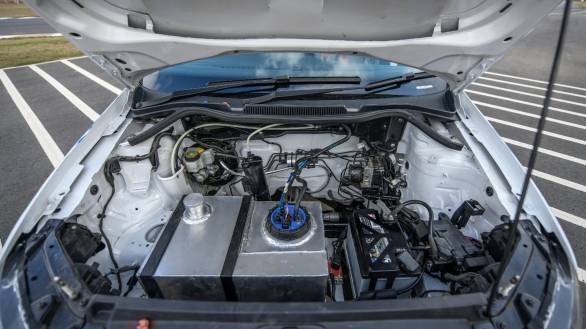 VW Motorsport have made extensive changes to the suspension mounting points and geometry to get the handling of the 'winter project' to a desirable balance. With the move of the powertrain to the rear, putting weight over the rear wheels, the Polo Cup car's already quick turn-in should be even more reactive. This, however, means the 'winter project' should make for a more involving drive, than the relatively forgiving setup VW Motorsport runs in its championship cars.
This car comes under the umbrella of VW Motorsport's Customer Sport program, which includes preparing championship-ready cars for use in both tarmac and rally motorsport events in India, such as the Polo Group N, Polo R2 and newly-developed Vento ITC car. We're told this one-off track car is for sale, and VW Motorsport can also develop a made-to-order racecar, as per specifications.