VW Ameo Cup 2018: Incident-packed race sees Dhruv Mohite continue good run
The second day of the first round of the 2018 Volkswagen Ameo Cup was an eventful one. The highlights of the second race of the weekend were the nose-to-tail racing, the constant skirmishes between drivers because of this, and cars toppling over when things got out of hand. Dhruv Mohite continued his good run from yesterday winning this event as well.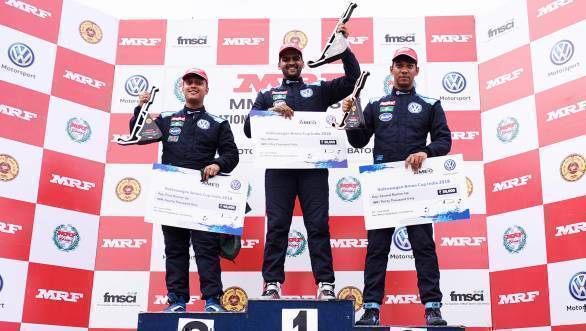 The race started with the top eight winners from the last race starting in a reversed position. This put Shivani Pruthvi on pole. She was joined on the first row by Akshay Bhivshet, followed by Shubhomoy Ball and Affan Sadat Safwan Islam from Bangladesh rounding off the top four.
Dhruv quickly managed to get past the other drivers and was leading the race lap 4 onwards. But the situation got interesting from lap 6. Manoj Yadamdala's car turned over while negotiating a long hairpin bend, causing a red flag and a restart.
Meanwhile, a tough battle for second place also ensued between Affan and Sourav. Affan, one of three drivers from Bangladesh, eventually managed to get the position. Sourav also had to fight his way up from sixth position to win third place.
Dhruv however managed to get a good feel of his car, winning the race without incident even though the safety car was called on to deal with another incident involving a car running into the gravel trap.
The Ameo Cup now moves to Chennai for its second round at Madras Motor Race Track in July.
Here's a detailed walk around of the 2018 Volkswagen Ameo Cup Car
Also Watch:- 2018 VW Ameo 1.0 | Road Test

Price (Ex-Delhi)
Starts Rs 5.96 Lakhs