Volvo XC90 T8 lands in India
Volvo India is gearing to juice up the alternative-powered automotive segment with the XC90 T8 plug-in hybrid, the first-ever premium luxury hybrid SUV on our shores. The T8 hybrid is expected to go on sale by the festive season, and the image below shows the car getting charged in Chennai where it was just offloaded at the port. The XC90 T8 hybrid will soon head for homologation, which is going to be a quick process, since the XC90 is already on sale in India and not much is needed to be done to pass homologation.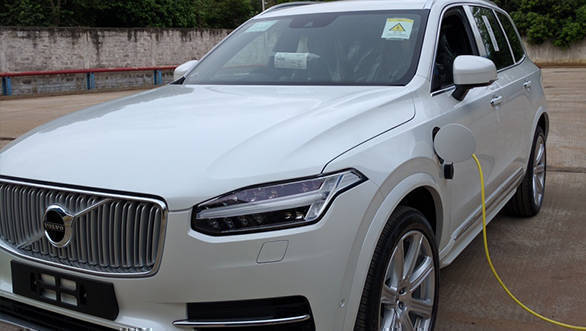 The T8 hybrid is also going to be quite unique in the XC90 line-up because of the way it's engineered. It replaces the driveshaft connecting the front and rear axles with an array of lithium-ion batteries. An electric motor powers the rear wheels, ensuring there is no compromise in the XC90's all-wheel drive abilities. In addition, this is a plug-in hybrid SUV which means when needed, you can unravel a charging cable, plug it into a socket, and charge the battery when it's standing idle either at home or at your workplace.
The standard engine is the same 4-cylinder unit that already powers the XC90. It's a turbocharged, supercharged, in-line 4-cylinder, DOHC 2.0-litre engine that makes 320PS of max power. Add the electric motors and they combine to raise power output to 400 horses with a prodigious 640Nm of max torque. But it's not just the peak power and torque outputs, the electric motor is capable of delivering a range of 32 kilometres on a full charge and that should substantially increase the overall mileage of the XC90. Of course, it's got the full array of brake regenerative and charging while coasting abilities to recharge the batteries.
Given the government's stand on diesel emissions, polluted cities, and an increasing affinity to deliver more hybrid and electric solutions to Indian consumers, the Volvo XC90 T8 Hybrid comes in at a very good time. What is left to be seen is the sticker price. Globally the XC90 is offered at a premium though Volvo India has been incredibly competitive with its pricing compared to the big Germans. Even if Volvo does charge a premium, the T8 comes with a full suite of interior luxury and convenience features, one of those being the very impressive crystal gear shift knob cut by Scandinavian glassmakers, Orrefors!
This one then is going to be shockingly delicious!
Price (Ex-Delhi)
Starts Rs 80.9 Lakhs