Volvo XC40 unveiled and is India-bound in 2018
After a series of leaks a few days ago revealed the design language and other details of the all-new Volvo XC40, Volvo has now officially unveiled the compact SUV. The Volvo XC40 compact SUV is based on the Compact Modular Architecture (CMA) platform that has its origins in China, Geely who now owns Volvo Cars. It is actually a more cost effective option for emerging markets than the reputed SPA platform.  The CMA platform is also expected to  underpin future, compact Volvos.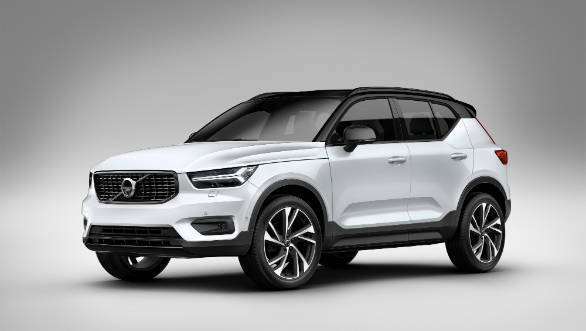 The Volvo XC40 sticks close to the 40.1 Concept showcased last year and you can clearly see the family motifs like the smooth Thor's Hammer DRLs as well as the overall styling. The designers say that the XC40 looks like a distant cousin of the XC60 and the XC90.  The XC40's design is influenced by architecture and fashion, which is why Volvo chose to reveal in the car in Milan, a city that has a mix of both. There are many firsts for a car including the placement of an air vented sub-woofer on the dashboard and not on the typical door pads which helps liberate space for bottles and other items. There are also trays underneath the front seats that will help the occupants to place their knick knacks in the cabin. The Volvo XC40 will come to India mid-2018 and compete with the likes of the Audi Q3, Mercedes-Benz GLA as well as the upcoming Jaguar E-Pace. Prices are expected to start from Rs 28 lakh when the Volvo XC40 will be launched in India.
Volvo says 'Pilot Assist' will be used in the new Volvo XC40 and this basically helps another authorised person to start the car without a key fob. Of course this works through an app and the owner has to give authority to the third party to use the car. The Volvo XC40 will use the company's Sensus touchscreen infotainment system but it has a couple of enhancements too, with the touch being much smoother now. The Volvo XC40 is a 5-seater and the company claims that it has designed the SUV to have a clutter-free cabin. This shows in the layout which has minimal buttons but lots of cubby holes in the cabin. There are various storage options that include a stow away hook for securing luggage, some more hooks at the boot as well as slots for credit cards holders.
The Volvo XC40  will feature a range of three and four-cylinder engines in both petrol and diesel iterations, with a plug-in hybrid planned for the future as well.
Price (Ex-Delhi)
Starts Rs 39.9 Lakhs
Price (Ex-Delhi)
Starts Rs 32.48 Lakhs
Price (Ex-Delhi)
Starts Rs 42.1 Lakhs