Volvo 5 Senses: The S60 Cross Country experience
The Volvo S60 Cross Country is a sleeper. Yes, because it looks quite unassuming when you see it for the first time. It looks good, just like the standard S60 (also on sale in India). But the party trick in the the S60 Cross Country lies in the 201mm ground clearance. And the best part is that it does not look ungainly with the added height. We've road tested the S60 Cross Country and knew it'd be a worthy companion to the XC60 and XC90 at the OVERDRIVE Volvo 5 Senses drive from Chandigarh-Narkanda-Raison-Prashar lake and back. However, the S60 Cross Country performed was terrific.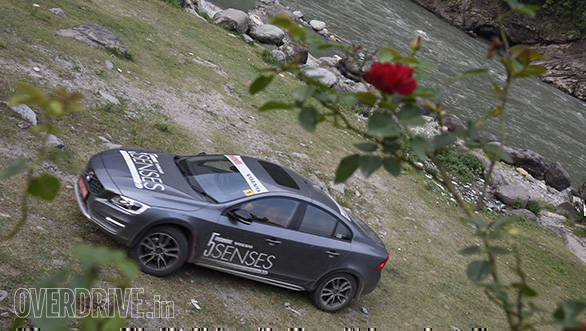 No Scrapes:
The 201mm ground clearance was a boon when driving off-road. There were stones, boulders and broken patches to deal with but never did the bottom scrape. This despite, hauling three passengers a week's luggage.
Great AWD:
The system works seamlessly, making you feel as if you've got great car control. Truth is, the Instant Traction technology constantly monitors the throttle position, engine speed, engine torque and speed of the wheels. When it detects slip, it sends power to the wheels with the most grip, making easy work of the terrain we encountered (rocky paths, slushy roads and the banks of a river)
Water Wading:
Yes! We took the car intoa river and it made it through, unscathed. Not only that. we also crossed streams with the S60 Cross Country without batting an eye lid.
Cornering capabilities:
Despite the increased ride height, the S60 Cross Country is a delight to push around corners. The participants, and Team OD, felt comfortable hustling the car around mountain roads, thanks to the car's Corner Traction Control system.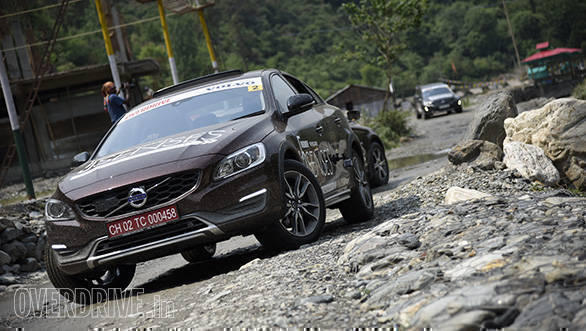 The seats:
Volvo has been designing excellent seats for quite some time and the ones in the S60 Cross Country are a result of the company's years of accumulated expertise. Besides offering a wide range of adjust ability, we found the seats to be super supportive. The bolstering is spot on and they really hold you tight, aiding the feeling of security that you naturally get in a Volvo.
Also see:
Image gallery: OVERDRIVE Volvo 5 Senses Drive
Image gallery: OVERDRIVE Volvo 5 Senses Drive (Part 2)
Video: OVERDRIVE Volvo 5 Senses drive