Volkwagen I. D. R Pikes Peak racer completes first test on location in Colorado
After the recent reveal of the Volkswagen I. D. R Pikes Peak racer, Volkswagen Motorsport has now put the electric racing prototype through its paces on location at a test on the Pikes Peak track in Colorado.
Given that the route is a public road otherwise, the team only had access to the track for three hours. Volkswagen Motorsport used that time to focus on the suspension, tyre tests, and the optimum use of battery charge and energy recycling when braking.
The team said that they were very happy with the results and will now focus on fine-tuning the car. The computer simulations and the test drives in Europe over the car's developmental cycle have yielded positive results for the outfit.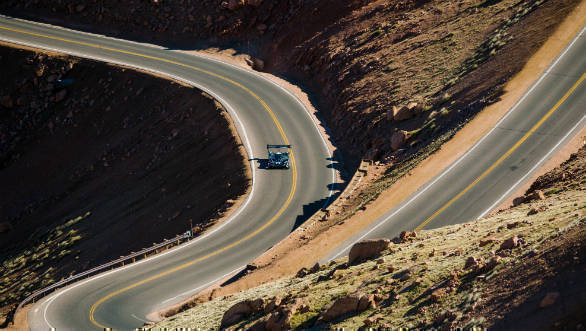 Romain Dumas, who will drive the I. D. R Pikes Peak at the premier hill climb event on June 24, said that this car is the best he has ever driven up the mountain. He was impressed with the car's acceleration and cornering speed and also found the electric drivetrain convenient to use. He didn't need to worry about gear changes and could focus on the racing line instead. But he went on to say that there was still room for improvement. The next few tests would help tune the car ideally and also help him get accustomed to an electric car better.
This comes as good news for the team that given that it is targeting the 8m 57s.118ms record for electric cars on the 19.99km track. The 680PS I.D. R Pikes Peak prototype has a distinct advantage when seen alongside conventionally powered racers. The electric drivetrain negates the 30 percent loss in performance than combustion engined cars face due to the low air intensity at high altitudes.
However, like the other contenders, the team only has one shot at the tricky hill climb, which summits at 4,302m, has 156 turns and a 1,440m elevation change. A slight error is enough to cost the record and weather too plays a factor during the time when the race is held.
To know more about the Volkswagen I. D. R Pikes Peak see:
Image Gallery: Volkswagen I. D. R Pikes Peak hill climb prototype racer revealed
Image Gallery: Volkswagen reveals I. D. R Pikes Peak prototype racer
See the full video of the I. D. R Pikes Peak's first test below: