Volkswagen US issues recall for 26,452 units
Volkswagen USA has issued a recall for 26,452 models which were produced between February 1 and April 6 this year. The recall has affected Jetta, Passat, Beetle and Beetle convertible models only. The problem has been detected with models having a 1.8T engine and an automatic torque converter transmission.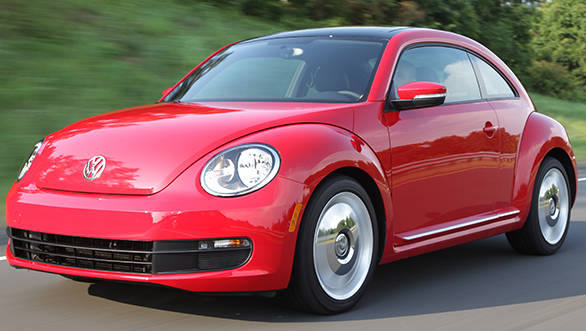 Volkswagen Beetle 1.8litre
The fault has been identified with the O-rings that sit between the oil cooler and transmission. According to the manufacturer, the O-rings are not able to completely seal the gap resulting in an oil leak and leaving the vehicle prone to fire hazard.
Volkswagen also said that this problem has arisen recently due to the change of material supplier for the production of transmission oil cooler. Out of all the units recalled, the company says that only 1,655 vehicles belong to customers and they have not specified details about the location of the other vehicles.
To fix this problem the company will replace the defective O-rings free of cost. Intimation will be sent to the owners instructing them to arrange for an appointment with an authorised Volkswagen dealer. The company says that no accidents, fires and injuries have been reported up till now on the issue.
VOLKSWAGEN ISSUES VOLUNTARY RECALL
Herndon, VA (April 21, 2014) - Volkswagen considers the safety and satisfaction of its consumers and passengers as a top priority. As such, Volkswagen of America today notified the National Highway Traffic Safety Administration (NHTSA) that it will be issuing a voluntary safety recall affecting the automatic transmission oil cooler on certain 2014 model year Volkswagen vehicles with a 1.8T engine and torque-converter automatic transmission. The recall affects 26,452 model year 2014 Volkswagen Jetta, Passat, Beetle and Beetle Convertible vehicles produced between February 1, 2014 and April 6, 2014. Of the 26,452 affected vehicles, 1,655 are customer cars. Due to a supplier material change during the production of the transmission oil cooler, the O-ring seals in affected vehicles are out of specification. If the O-rings do not completely seal between the oil cooler and transmission, a fluid leak may result. To fix the issue, Volkswagen will replace the defective O-ring with a new one, at no cost to the customer. No fires, accidents, injuries or vehicle fires have been reported. Volkswagen will notify all owners of affected vehicles and will instruct them to arrange for an appointment with an authorized Volkswagen dealer.
Price (Ex-Delhi)
Starts Rs 14.78 Lakhs