Volkswagen to setup quick charging stations for EVs in first half of 2019
German car manufacturer Volkswagen recently previewed quick mobile charging station concept for charging electric vehicles that has been developed in-house by Volkswagen Group Components, an independent business unit within the Volkswagen Group. These mobile stations will charge electric vehicles from VW's portfolio as well as that of others. VW mentions the first mobile quick charging stations will be set up as early as the first half of 2019 at the company's hometown as part of a pilot project. Further, the charging stations will also be implemented in other cities and communities, stated VW.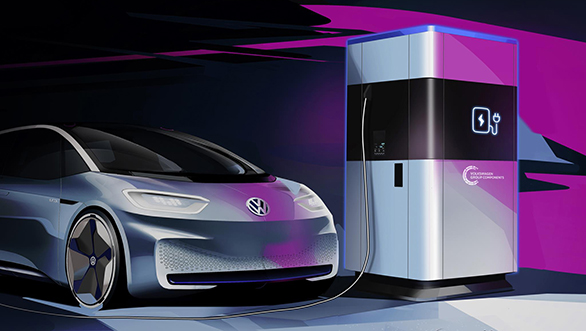 The VW mobile charging stations will be positioned at different points across the city. The locations of these stations can be found out with the help of a smartphone app. Each charging station will offer  quick charging with up to 100 kW.  In addition to electric cars, e-bikes can also be charged. Up to four vehicles can be charged simultaneously: two with DC and two with AC connections. The total battery storage capacity of up to 360 kWh is sufficient for up to 15 e- vehicles. There is also the possibility of connecting to the power supply directly, allowing the station to be charged with up to 30 kW via alternating current by means of a permanent standard grid connection. This enables charging points for electric vehicles to be set up quickly and simply, without any structural changes or major financial outlay. The battery pack in the charging station can be recharged continuously with the help of direct power connection. VW mentions that with this arrangement, the strain on the power supply at peak period can be reduced.
Mark Moller, head, technical development, Volkswagen Group Components mentions "It is only when an electric car is charged with sustainably generated power that it can claim CO2-neutral mobility. Our charging station is the first to offer the possibility of temporarily storing sustainably generated power." For example, the charging station can be charged specifically with solar or wind energy, which is then transmitted to the electric vehicles during charging. Technically, the mobile charging column is based on the battery pack of the Volkswagen Group's Modular Electric Toolkit (MEB). On the one hand, this offers the advantage of quick scalability and, on the other hand, the charging station allows batteries from electric vehicles to have a second life. This is because a battery loses charging capacity over time. If a vehicle battery has a defined, reduced residual capacity, it is exchanged. If this battery subsequently passes a thorough analysis, it can be reused in a mobile charging station."
Volkswagen rightly believes an efficient network of charging points is regarded as one of the basic infrastructural prerequisites for convincing customers to buy electric vehicles. Accomplishing this is one of the major challenges Volkswagen Group Components and others must tackle to ensure the breakthrough of e-mobility