Volkswagen to launch 34 new models consisting of SUVs, EVs and Hyrbids in 2020
German car manufacturer Volkswagen is planning to go big with its Transform2025+ strategy wherein it plans to invest heavily in future technologies as well as launch all new models. Volkswagen will be investing €19 billion for future technologies through 2024, of which €11 billion will be used for e-mobility. The company plans to launch 34 news models consisting of SUVs, EVs and Hyrbids in 2020.
"We are at the beginning of a new era. We mean business with e-mobility. The brand will be investing €19 billion in future technologies through 2024, €11 billion alone in the further development of e-mobility. And Volkswagen starts the biggest electric offensive in the automotive industry next year: The ID.31 goes on sale in the summer, soon followed by the ID.Next2, our first electric SUV. Our ID. family makes emission- free mobility accessible to many people for the first time. That is New Volkswagen." mentioned, Volkswagen COO Ralf Brandstatter.
The official release further mentions, the digital transformation roadmap is an important stepping stone for the company in its modernisation and digitalisation efforts. Signed off in 2019, the roadmap follows on from the pact for the future and focuses in particular on further improvements in competitiveness and earnings power over the coming years. It also lays the groundwork for expanding the software expertise of the brand and the Group. The Car.Software organisation will already begin operating as an independent business unit in January 2020. By 2025, the in-house share of car software development and vehicle-related services is to rise from under ten percent today to at least 60 percent. Ongoing restructuring of core business, including the positive effects of the pact for the future, and the success of the worldwide SUV offensive have been key to this achievement. Improved earnings in the regions and successful WLTP management have been just as important." The pact for the future signed in 2016 is also bringing results. Some €2.6 billion of the planned €3 billion cost savings will have already been achieved by the end of 2019.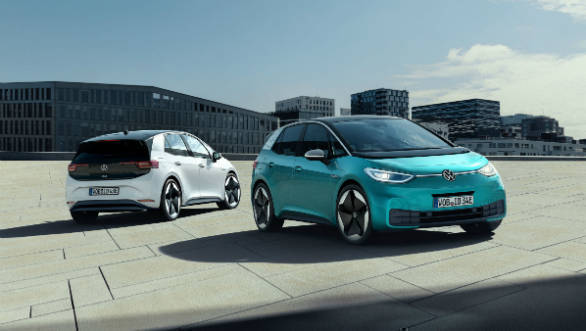 Volkswagen I.D.3 production version will be launched next year
"Our strategy is gaining a foothold. Our vehicles are convincing customers and our consistent discipline with respect to costs and investments is having a positive impact. We therefore confirm our target of an operating return on sales of four to five percent for the full year 2019 in a difficult market environment. As announced, we expect to generate cash flow from operating activities significantly in excess of one billion euros in 2019. Our financial targets for 2020 remain unchanged. Furthermore, we reaffirm our targets for 2022 of an operating return on sales of at least six percent and cash flow in excess of 2 billion euros." commented, CFO Arno Antlitz