Volkswagen rolls out 30 millionth Golf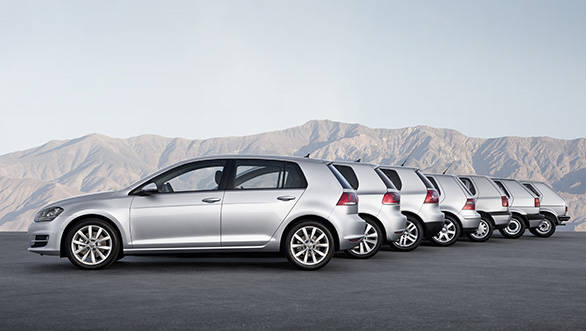 Volkswagen celebrates the 30th millionth Golf
The 30 millionth Golf has rolled out of the assembly line at the Volkswagen unit in Wolfsburg, Germany. This makes it a production record for the most successful European car ever.
Production of the original Golf began in early 1974. Since then, an average of over 2000 Golfs are sold every day for the past 39 years. The thirty-millionth car is a Golf TDI 'BlueMotion'. Introduced only recently, the BlueMotion delivers fuel efficiency of 37.5kmpl, making it the most fuel efficient Golf ever built.
"The history of the Golf is also the history of automotive progress. With technologies such as the safe front-wheel drive of the first Golf, the debut of the TDI in the third Golf, ESC (Electronic Stability Control) and the dual clutch gearbox of the fourth Golf and the standard Automatic Post-Collision Braking System of the new generation, this car has continued to democratise progress," said Professor Martin Winterkorn, Chairman of the Board of Management of Volkswagen AG. "An optimum of safety, comfort and driving fun are no longer a question of money thanks to the Golf. And so our bestseller lives up to the Volkswagen name."
Prof. Martin also officially accepted the 'Car of the Year 2013' award for the Golf, which had been announced at the Geneva Motor Show.