Volkswagen Motorsport India-developed TC4-A cars to compete in National Racing Championship
Volkswagen Motorsport India's latest offering, as part of their customer sport programme, is a racecar that conforms to the TC4-A regulation. Two Volkswagen Ventos have been built to fulfil the FMSCI's new regulations, in an attempt to bring more modern machinery into the domestic motorsport scene.
The two Volkswagen Vento TC4-A regulation racecars will be piloted by Karthik Tharani and Ishan Dodhiwala (former champions in VW Motorsport India's single-make series) in the 2018 National Racing Championship. The feedback that these two drivers provide VW Motorsport India will help them further develop the cars and get them to a competitive level.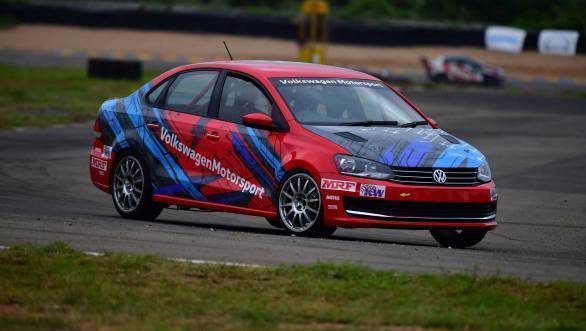 Sirish Vissa, head of Volkswagen Motorsport India said, "We have started development on our race spec Volkswagen Vento cars with the new set TC4-A regulations by FMSCI. As part of the testing phase, our two test cars will be driven in this year's National Championship season."
Tharani has worked as a development driver for the Ameo Cup racecar, and his feedback on the Vento TC4-A machine will be crucial.
The TC4-A regulations are based on the current Indian Touring Car (ITC) regulations, that feature turbocharged racecars up to 2000cc. The new regulations specify the minimum weight of the racecar as 1150kg, while the and the turbo inlet restrictor is meant to be 30mm. The Vento TC4-A is powered by a 1.8-litre TSI engine, mated to a 3MO sequential gearbox with a manual gearshift lever.
Commenting about the performance of the test cars, Mr. Vissa said, "With the limitation of an inlet restrictor, harnessing maximum power from the engine is an added challenge. However, our technical development team is working hard to overcome these obstacles and provide a thoroughbred race car for the future."
Price (Ex-Delhi)
Starts Rs 8.78 Lakhs