Volkswagen Motorsport India announce the 2015 Vento Cup
Volkswagen Motorsport India have just announced their new one make race series, the Vento Cup.  As OVERDRIVE had reported earlier, the new race series will feature Volkswagen Ventos replacing the Polos that have been used for the past five seasons.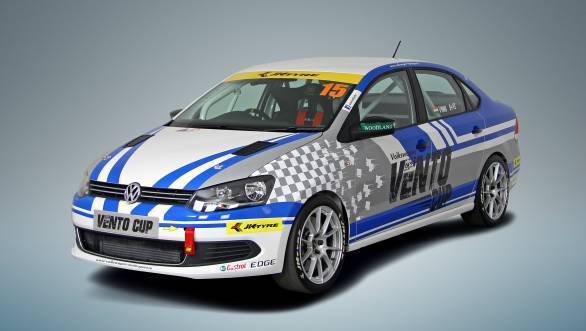 For 2015 the Volkswagen Cup replaces the Polo-R Cup that has run for five seasons
Based on the stock Vento, the racecar  sports a 1.4-litre TSI engine, developing 180PS of power, mated to a 6-speed DSG gearbox. Volkswagen say that they have reinforced the chassis for greater rigidity. The Vento is also claimed to have a lower drag coefficient compared to the Polo, which should help it go faster and handle better in corners. This is likely to make it easier for rookies to get accustomed to, which means that bridging the gap to more experienced drivers ought to be easier.
The drivers for the 2015 season will be selected using a karting programme which will be conducted in February in Pune by Rayo Racing.  Interested drivers can go online and register for the same at www.volkswagen-motorsport.in. The new drivers selected will go up against some of the existing drivers from the 2014 Polo Cup.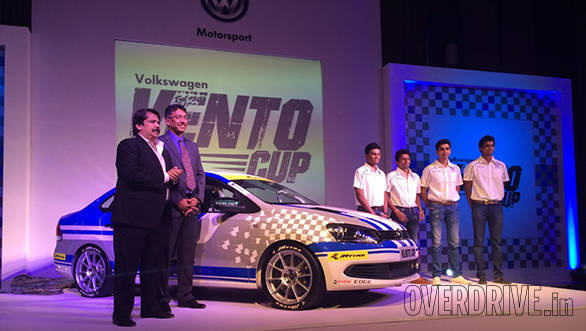 Sanjay Sharma, head of motorsport, JK Tyre, Sirish Vissa, head of motorsport, Volkswagen India, with the new Race Vento and former Polo Cup champions Kartik Tharani, Ameya Walawalkar, Rahil Noorani and Vishnu Prasad
The cost for enrolling for the Vento Cup is Rs 8 lakh for the Junior and Pro categories. Signing up for the Senior category will set you back by Rs 12 lakh whereas participation fee for international drivers is Rs 14 lakh. Volkswagen Motorsport India expect as many as 20 to 24 entries for the 2015 season.
Plans to get the the MMSC racetrack back on the calendar are also underway, in addition to the Kari Motor Speedway and the Buddh International Circuit.
Having launched the Polo Cup Race five years ago, Volkswagen Motorsport India said that they felt the need for a change and hence for this year the Polo Cup has been discontinued.
The winner of the Vento Cup championship will get an opportunity to drive in an international series or in a higher series here in India, provided the driver is under the age of 26.
While the calendar for the 2015 Vento Cup hasn't been unveiled it the races are slated to begin in June 2015 and end at the Buddh International Circuit in the month of November.
Price (Ex-Delhi)
Starts Rs 8.78 Lakhs
Price (Ex-Delhi)
Starts Rs 6.17 Lakhs