Volkswagen Golf GTI TCR with 290PS teased
Volkswagen has teased the quickest version of the Golf GTI yet, the Volkswagen Golf GTI TCR. The car has been teased in sketches before the pre-production prototype debuts soon at the Worthersee festival on May 10.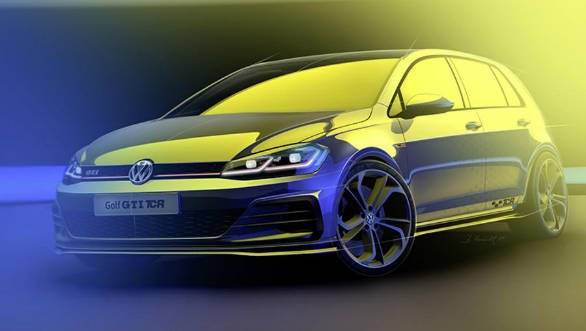 The road-going GTI TCR (Touring Car Racer) will be derived from the 350PS TCR which won the TCR motorsport series twice. The road-legal car will be detuned to 290PS and 370Nm and will come with a stripped out two-seater configuration to the GTI Clubsport S from some time ago.
This means that the TCR will sit below the Golf R, which has 310PS, but the TCR makes 50PS more than the GTI performance. The 2.0-litre four-cylinder turbo will be paired with a seven-speed dual-clutch gearbox and come with a front axle differential lock that VW promises will improve traction. Its top speed has been electrically limited to 250 kmph but VW claims that car can get to 264 if the limiter is removed, making it the fastest GTI ever.
Production of the car is expected to begin in Europe at the end of 2018 and given that the standard GTI is not available in India, it is unlikely that this car will be sold here.
When launched in 1976, the VW Golf GTI established the modern blueprint of a hot hatchback. It can be credited with making hot hatchbacks popular and turn it one of the most interesting segments of the car industry. With the last few years having seen a hot-hatch renaissance of sorts, the GTI TCR will help provide a more hard-edged option to buyers looking for a VW hot hatch.