Volkswagen emissions scandal: Company apologises to vehicle owners and dealers in India
During the official unveiling of the Volkswagen Ameo in New Delhi, senior company officials apologised to their dealers and owners of vehicles in India for the inconvenience caused as result of the ongoing emissions cheating scandal. Volkswagen also clarified that the EA 189 diesel engine cars which they have sold in India are not equipped with the infamous defeat device. The company also said that all their engines are compliant with the existing automobile emissions regulations in India.
Jurgen Stackmann, board member for global sales and marketing, Volkswagen passenger cars, said that the company is working on winning back the trust of Indian customers by voluntarily recalling all diesel cars with EA 189 engines. This recall process was officially initiated around two weeks back and vehicle owners are being contacted by VW dealers. As a part of the recall, all cars in India with the EA 189 engines are being technically upgraded to ensure that they are up to the same standards as the global cars.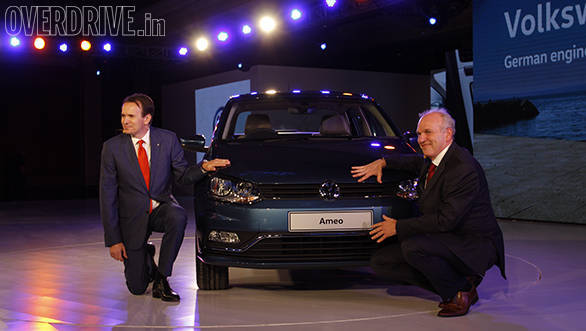 Stackmann also said that even after the software update, the basic characteristics of the EA 189 engines like their performance, power and fuel emissions will continue to remain the same like before. "Volkswagen made some big mistakes and I apologise to our valued customers, dealers and authorities. I assure you, we are committed to making things right," he added.
Volkswagen have officially admitted that 11 million of their cars sold globally are equipped with a software to cheat emissions control systems. In the US, their EA 189 engine was found to emit nitrogen oxide around 40 times over the permissible limit.
More from OVERDRIVE on the Volkswagen emissions scandal
Volkswagen emissions scandal: VW to recall 3.23 lakh polluting diesel cars in India
Volkswagen emissions scandal: Fresh findings affect Volkswagen, Audi and Porsche 3.0-litre V6 diesels
To stay at the cutting edge of automotive news in India, follow us on Twitter (@odmag) or on Facebook (facebook.com/odmag). Or download our app from the iOS or Android app stores today
.
Price (Ex-Delhi)
Starts Rs 5.83 Lakhs
Price (Ex-Delhi)
Starts Rs 5.96 Lakhs