Vision Mercedes-Maybach 6 Cabriolet all-electric luxury concept car unveiled
Electric vehicles (EVs) are just finally hitting their stride with Tesla leading the pack and other automobile manufacturers following suit. Last week, Mercedes-Maybach, the uber luxury arm of Mercedes-Benz, showed us their vision of the future of all-electric luxury cars with the Vision Mercedes-Maybach 6 Cabriolet concept. The German manufacturer's concept car was unveiled at the 2017 Monterey Car Week in California.
At 20 feet in length, the Vision 6 is an art deco style luxury car with a boat tail design. It is a follow-up to the Vision 6 Coupe unveiled last year. Clean lines, including the chrome strip that runs the length of the boat-sized car on either side, dominate the look. A large chrome grille and super-sleek headlamps make up the front, while a chrome strip runs along the edge of the front lip. Despite its yacht-like proportions, the Vision Mercedes-Maybach 6 Cabriolet concept is no slouch.
The company claims that the four individual electric motors - one behind each of the gargantuan 26-spoke alloy wheels - will produce a combined 760PS, enabling the car to achieve a 0-100kmph time of under 4 seconds, and reach an electronically limited maximum speed of 250kmph. Mercedes-Benz claims that the flat power pack positioned under the vehicle will give it a range of 320km between charges.
With DC fast charging, the company states that the Vision 6 Cabriolet will be able to achieve charge to last about 100km (60 miles) in 5 minutes. The 2-seater has a white finish interior with glowing blue strands of light surrounding the cabin. Twin-turbine style instrumentation pods lend a retro touch to the interior as well. Currently, Elon Musk's Tesla rakes in the numbers with its nearly 5-lakh strong order book for electric vehicles. If and when the Vision Mercedes-Maybach 6 Cabriolet makes it to the streets, it will definitely be the one to bring glamour to electric vehicles.
Here are some more pictures of the Vision Mercedes-Maybach 6 Cabriolet vision from Pebble Beach: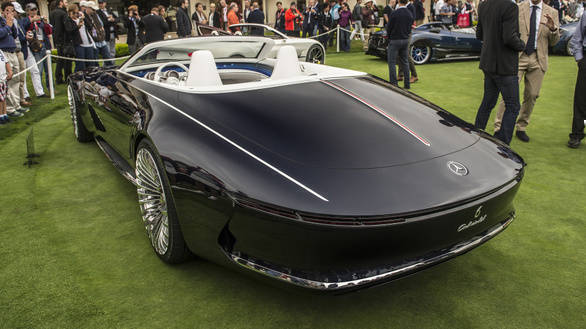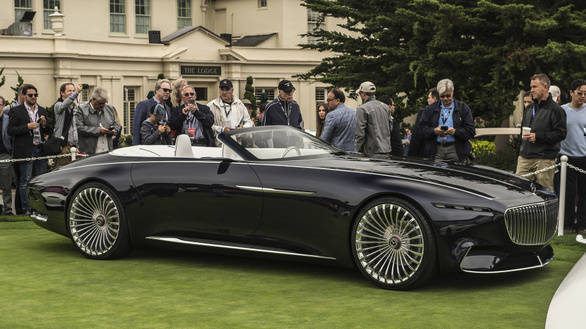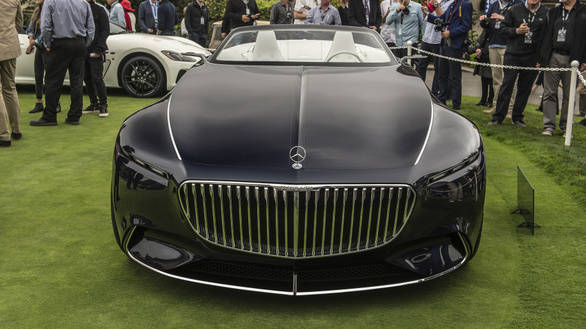 Images: Autoblog.com