Viper pulls out of 2014 24 Hours of Le Mans
2013 marked the  return of  proper muscle cars to the 24 Hours of Le Mans in the form of two Viper GST-Rs from SRT Motorsports. But despite being officially entered in LMGTE Pro class in the 2014 edition of the 24 Hours of Le Mans, the team has withdrawn its entry. The legendary Viper has in the past gained a tremendous reputation for itself in the GT class of the 24 Hours of Le Mans back in the Nineties. And though SRT Motorsports has pulled out of Le Mans, they will still compete in the Tudor United Sports Car Championship in the United States, the reunified North-American endurance series.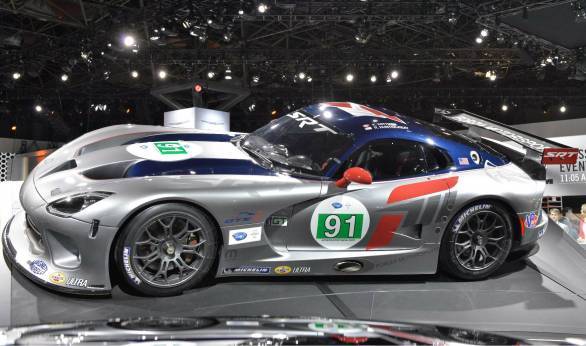 "We regretfully and respectfully decline to participate in this year's 24 Hours of Le Mans," said Ralph Gilles, President and CEO of SRT (Street and Racing Technology) Brand and Motorsports, Chrysler Group LLC. "We are honoured to once again be invited by the ACO (Automobile Club de l'Ouest) to compete in this historic event, and they were the first to be informed of our decision. We will remain focused on our North American racing program in 2014."
Vincent Beaumesnil, Sports Director of the Automobile Club de l'Ouest expressed the ACO's disappointment on hearing the news, stating "We're very disappointed to learn of SRT Motorsports' withdrawal from the Le Mans 24 Hours. Viper achieved numerous successes in our event in the Nineties and its return last year was a very promising one. But we're confident that in 2015 SRT will be back at Le Mans and we'll be only too delighted to welcome this exceptional entrant again."
This move has paved way for the first two teams on the LM GTE reserve list, with the replacements in the form of a JMW Motorsport Ferrari 458 Italia with Geoff Richardson as the first nominated driver, and another identical Ferrari entered by Japanese squad Team Taisan with Mateo Malucelli as the first driver.
There are two other withdrawals among the reserves. Risi Competizione (no. 57 Ferrari 458 Italia), in LM GTE has declined the invitation as well as Boutsen Ginion Racing (no. 40 Oreca 03-Nissan) in LMP2.