Vintage Car Fiesta organised by the VCCCI in India on February 1, 2015
Mumbai's mild winter is clearly the best time for activities and events like the Vintage Car Fiesta organised by the Vintage and Classic Car Club of India on February 1.
The line up for the flag–off at Horniman Circle Gardens was impressive with about 150 cars and close to 50 two-wheelers taking part. Several enthusiastic spectators had also turned up, despite the fact that the VCCCI does little to publicise its annual event. I am sure if they held a pre-event press conference and put in proper efforts to promote the Fiesta, they will not only have a lot more people turning up, but also get more support from sponsors.
Over the years, the quality of restoration of cars has gone up tremendously as has the number of car collectors. The cars that most impressed me were Viveck Goenka's superbly restored 1934 Packard Super 8 and Amir Ali Jetha's 1935 Rolls-Royce Phantom II which was once owned by the Maharaja of Jodhpur. In my opinion, this has to be the most stunningly styled Rolls-Royce in India, and fortunately it has now been restored very well. Interestingly, Siddharth Khona showed his immaculate 1915 Ford Model T which he imported from the US recently. Yes, with the government opening up import of cars manufactured before 1950, several cars have been brought into India. Siddharth's car was much appreciated as were the Model Ts of Parvez Vohra and Edul Dhondy who travelled from Australia especially for this event.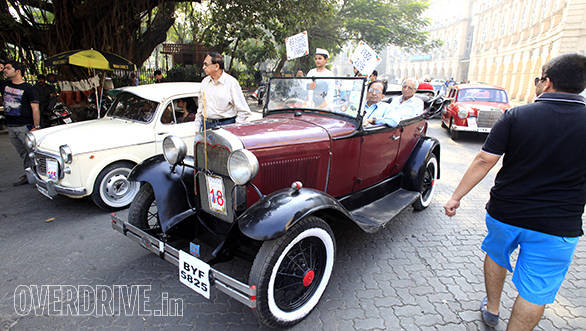 Some of the other notable cars at the rally were Fali Dhondy's 1929 Rolls-Royce, Jagdish Thackersey's 1935 Bentley, Abbas Jasdanwalla's 1931 Pierce Arrow, Hemant Ruia's 1919 Minerva and Nitin Dossa's Wolseley. As always, Viveck Goenka's 1972 Jaguar E-Type was a big hit with the crowds and being a muscle car fan, I was particularly happy that Viveck had also entered his 1967 Pontiac Firebird.
Murad Jetha also came in his 1974 Pontiac Firebird and the Vintage Car Fiesta had several Cadillacs, Citroens, a couple of Wolseleys, Fiats, Fords, Austins, Chevrolets and  Dodges. The other makes that made it to the rally included Morris', MGs, Studebakers, Buicks, Chryslers, Minis, Alfa Romeos, Mercedes-Benzs and Triumphs. Madan Mohan, the Delhi-based car collector also brought several cars including a 1932 Chrysler. Spotted along with the above were a few Rovers, an Avon, Hudson, Adler, Invicta, Oldsmobile, Hillman and some VW Beetles.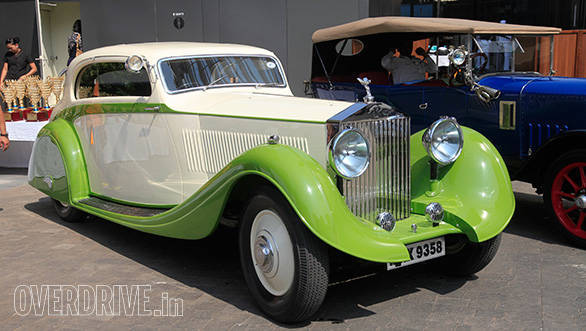 There were some very impressive bikes too and the crowd was wowed by Jacob Eapen's 1910 Triumph, Amal Tanna's 1919 Indian and Shashikant Chaudhary's 1951 Royal Enfield among others. There were several BSAs, AJSs, Lambretta's, a couple of nice Matchless bikes, some Vespa scooters, and also a Jawa and few Rajdoots and Yamahas.
The finish was at the Sofitel Hotel which hosted a lunch for participants on its third anniversary. The food had an appropriate period flavour with the Railway Mutton Curry being a big hit. With the kind of enthusiasm displayed by both the participants and enthusiasts, I strongly feel that Mumbai deserves more than just one annual event. It's high time car collectors and enthusiasts push the VCCCI in this direction and also bring in more organisations to hold such events. The entire movement could do with more professionalism and less politics. Let's hope this happens and that vintage and classic car events in Mumbai rise to another level.
Images by Suresh Narayanan