Vins Duecinquanta, a two-stroke motorcycle developed by ex-Ferrari engineers
The present generation of motorcycles are all four-strokes for a reason. They are cleaner and leaner compared to the two-strokes that used to power the previous gen of machines. Remember the Yamaha RD350s, Suzuki Shoguns and the Kawasaki KB100s? Will that era ever return? A group of engineers who used to work at Ferrari have formed a company called Vins Motors, headed by Vincenzo Mattia. And they have built the Vins Duecinquanta, a 249cc two-stroke V-twin motorcycle that comes in two variants.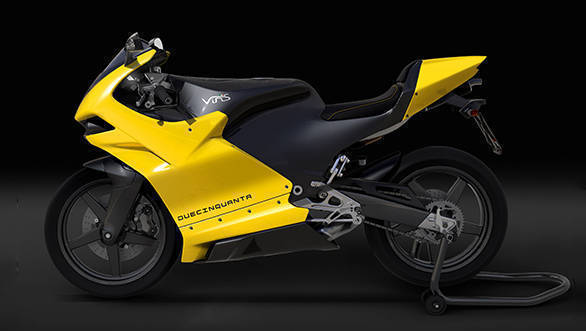 Vins Duecinquanta comes with a carbon fibre monocoque body
The name Duecinquanta stands for two-fifty in Italian. The Vins Duecinquanta is a carbon-fiber monocoque machine that comes with a two-stroke V-twin with electronic fuel injection. The company has still not let out any info on the power and torque ratings of the production version except that it weighs less than 95kg. Yep! That's how much it weighs. This street legal production variant's numbers will be out once the motorcycle complies with the Euro4 emission standards. There is also the Vins Duecinquanta Competizione track version that comes with a larger 288cc motor that puts out more than 80PS. And this version weighs close to 85kg.
That's the track only version called the Vins Duecinquanta Competizione
Now all of that fast machinery and lightweight wizardry will come at a price. Vins Motors has priced the standard Duecinquanta at $48,000 (approx. Rs 30.45 lakh, excluding taxes and duties) while the track Competizione will be available at $60,000 (approx. Rs 38.07 lakh, excluding taxes and duties). That is a steep pricing for sure, only if Vins Motors are successful in homologation ofthese motorcycles. Will you pay that premium for a performance-spec two-stroke motorcycle in India? Let us know in the comments section below.