Video worth watching: Modified Nissan GT-R Nismo sets a 305kmph drift record
In the world of drifting, a simple measure of a person's mental stability is to check how fast they dare to drift their machines. Well, then it's safe to say that Masato Kawabata is, quite frankly, bonkers. The Japanese drift champion managed to hold a 305kmph drift in a specially tuned Nissan GT-R at the Fujairah International Airport in UAE, setting a new Guinness world record.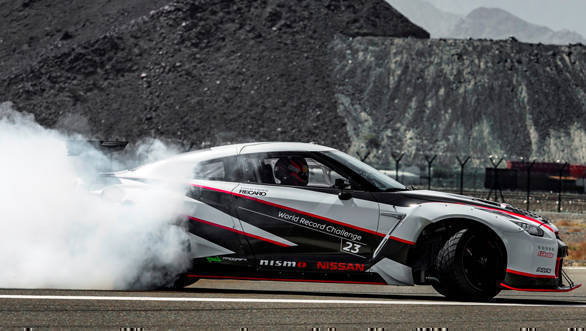 The GT-R in question was jointly developed by Nismo and Greddy. The power was cranked up all the way to 1380PS and the front driveshaft was eliminated, transforming it into a rear-wheel drive drift monster. Extensive testing was first carried out at Japan's Fuji Speedway, after which it was shipped to the UAE, where it set the record on Fujairah's 3km long runway.
What makes this record even more astounding is the fact that the previous record was completely demolished, at 217kmph set by Poland's Jakub Przygo?ski. Kawabata had only three attempts to make the record, as per Guinness rules.
"The Nissan GT-R is one of the world's most iconic supercars, proving time and again the incredible breadth of its capabilities, and has clearly demonstrated its performance leadership by beating the best drift cars out there." says Samir Chefran, managing director, Nissan Middle East.
Price (Ex-Delhi)
Starts Rs 2.12 Crore