Video worth watching: Dougie Lampkin wheelies around the entire Isle of Man TT course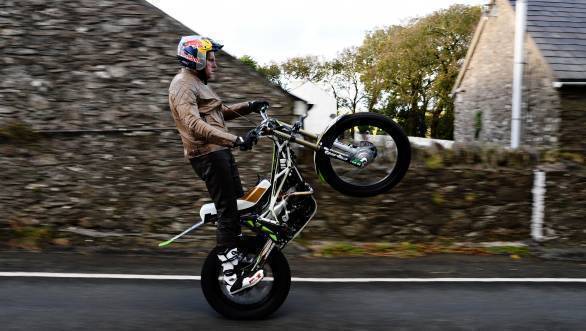 Dougie Lampkin of England during his attempt to wheelie the entire Snaefell Mountain Course on
Twelve-time Trial World Champion Dougie Lampkin completed the first-ever continuous wheelie around the Isle of Man TT Circuit. The 40-year old rode his single-cylinder 300cc two-stoke fuel-injected Vertigo trials motorcycle on one wheel perfectly throughout the course. Which means that he rode on one wheel for 37.7 miles, or 60.67km.
You really need to watch the video to understand the full import of what Lampkin has achieved. After all, this is the legendary, and rather treacherous, Isle of Man TT course.
The video starts off with Lampkin practicing around a track, after which the multiple world champion begins his really long wheelie! The circuit has over 200 corners and various altitude changes, so doing the whole lap on a single wheel was no ordinary task. In fact, before Lampkin did the run, it wasn't known if it was actually possible to do it.
While the current lap time at the IOM TT stands at 16:53.929, set by Michael Dunlop earlier this year (on two wheels, of course), Lampkin's time was one hour and 35 minutes. It was a tricky time too, with Lampkin first needing to postpone his attempt by 24 hours, due to the heavy gales at Douglas Island. However, he then battled to keep his motorcycle upright on one wheel, fighting winds of 64kmph, on one occasion, even calling one of his support vehicles alongside, to shield him from the wind.
Dougie Lampkin who is a nine-year resident of the iconic island had to fight through traffic as well. Because the roads remained open throughout his attempt. After the event, Lampkin said, "That feels amazing; it was so tough out there. To be the first person to wheelie around the TT course ranks right up there with my best achievements and is something I won't ever repeat."