Video: Why drifting is so big in Japanese culture (NSFW)
Outsiders: Japan is a one and a half hour long documentary set on the culture of drifting in Japan. The plot follows team Driftworks, one of the pioneers and biggest drift shops in the UK as they visit Japan to discover the roots of drifting. Shot by a professional film crew, the team looks to discover the real drifting, whether it's the illegal stuff that happens in the streets at night or the pros who take to the race track on the weekend to have some fun.
What's special about this documentary is that it isn't just about some cars slithering about with screaming exhausts and howling tyres but that it takes a keen look into the amazing Japanese way of life. You'll get to see the cool vending machines that serve both hot and cold drinks, crazy automated toilets and plenty of freaky foods. Everything the Japanese do is carried out with extreme passion and an unending  quest for perfection. If you travel to Japan (you really should, it's incredible), you'll see how things just simply work, everything is highly advanced and the public carries themselves with great discipline.
The documentary explains how it is this highly regimented lifestyle that also pushes rebellious expressions such as drifting and explains why the Japanese are so good at it - everything must be done as best as possible. At the end though, all the drifters are looking for is to have fun.
Over the 1.5 hours of brilliantly shot video and a fair amount of swearing (hence NSFW) you'll see some amazing Japanese tuning shops, iconic drift circuits and hundreds upon hundreds of cool Japanese machines (try spotting the van with a GTR face at the 27 minute mark!)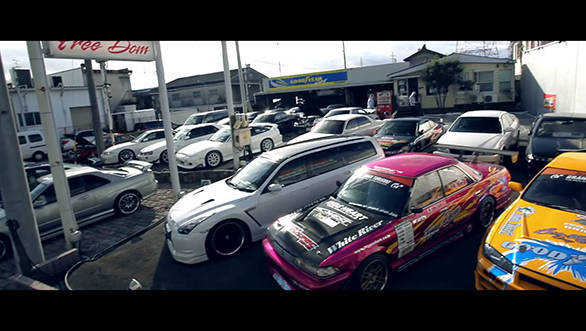 We'd really recommend a watch, in high definition and with good speakers!