Video: Everything you need to know about the Triumph Infor Rocket Streamliner
British motorcycle brand Triumph will be attempting to break the motorcycle land speed record with the Infor Rocket Streamliner. Team OVERDRIVE is at the Bonneville Salt Flats, and will get to witness the epic event as and when it happens. While there are  details about the Triumph Infor Rocket Streamliner, here's more information about Triumph and the Land Speed Record. The iconic brand held the title of World's Fastest Motorcycle from 1955 to 1970. The Triumphs that set the record were the Devil's Arrow, Texas Cee-gar, Dudek Streamliner and Gyronaut X1, with the last one clocking a maximum of 395.28kmph.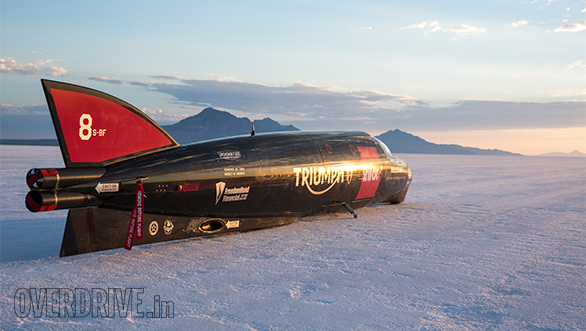 Triumph had set the new speed record of 376.363mph (605.697kmph), with Rocky Robison back in September 2010, which it now attempts to break with famous British road racer and Isle of Man TT sensation, Guy Martin. The crew consists of Matt Markstaller from Hot Rod Conspiracy, who manages test and development engineering for Daimler Trucks in Portland, Oregon. Hot Rod Conspiracy works on the aerodynamic aspect to improve the vehicle's speed, handling and fuel efficiency. Further, the team has Bob Carpenter from Carpenter Racing who has tuned the two turbocharged Rocket III engines with a combined displacement of 2,970cc to produce 1000PS of power and more than 680Nm of torque.
The Triumph Rocket Steamliner is a custom-built 25.5-foot long and a two-foot wide motorcycle. Built on a carbon Kevlar monocoque platform, the engines are powered by methanol fuel. Check out the following video to understand the finer details of the Rocket Streamliner, its two-engine transmission, and the 650kmph tyre and rim, as explained by Matt Markstaller from Hot Rod Conspiracy.
More from OVERDRIVE on the Triumph Infor Rocket Streamliner 
Image gallery: Triumph Infor Rocket Streamliner