Vespa 946 coming to India by end-2013
Piaggio Vehicles Private Limited will be launching its flagship model Vespa 946 in the Indian market by the end of this year. The retro-futuristic Vespa 946, which rolled out in Europe in June, is currently under evaluation at the Automotive Research Association of India (ARAI). Piaggio Vehicles Private Limited is a wholly-owned Indian subsidiary of the Italian two-wheeler giant Piaggio.
The 946 retains a resemblance to the iconic Vespa, while giving it that unique floating seat
"The product is undergoing the homologation process under ARAI and this may take at least 3-4 months. Hopefully, it will be available from the fourth quarter of the current financial year," said Ravi Chopra, CMD of Piaggio Vehicles Private Ltd.
A few stand-out features are the floating pillion seat, LED headlight and digital instrument console. The overall concept of the scooter remains true to the original MP6 Vespa. The nomenclature 946 itself comes from Vespa's first year of production, 1946.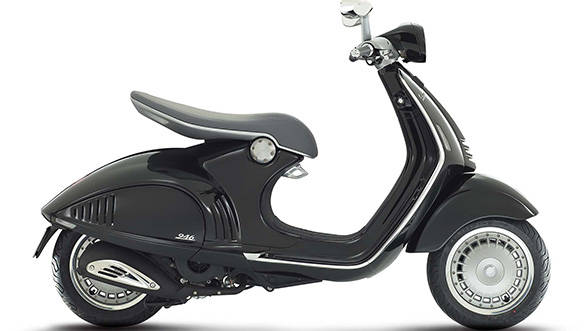 The 946 remains true to the original MP6 Vespa prototype
The automatic scooter is powered by a 3V fuel-injected single cylinder engine. Displacement options available are the 125cc delivering 11.7Bhp and 10.3Nm torque and the 150cc delivering 13Bhp and 12.6Nm of torque. ABS, traction control, disc brakes at both front and rear and meaty tires are other added attractions. Black and white paint jobs will be the only available options.
The Vespa 946 is a fine, top-of-the-line automatic scooter that will make an authoritative style statement. Given that it's meant to be a hand-crafted vehicle with a variety of accessory options, it won't be cheap.
Related: Shumi's thoughts on the premium proposition of Vespa scooters