Vespa 946 Christian Dior breaks cover
Vespa and Dior, both were founded in 1946 and they both have joined hands to make the Vespa 946 Christian Dior scooter come to life. The cooter is a symbol of refinement and it reflects the shared commitment to the excellence of both the brands. The scooter's monohull architecture and subtle graphic lines pay tribute to the heritage of the two houses. 

The scooter borrows design cues from the iconic Vespa 946 that was presented in the year 2012 in Milan, the new model was designed by Maria Grazia Chiuri, Creative Director of Dior women's collections and the scooter is made in Italy. These limited edition scooters will be launched in spring of 2021 and the scooter will be available at Dior boutiques across the world and select Piaggio Group's Motoplex stores.

The scooter's paint job includes a very exclusive colour made together with Dior creative Department and it gets gold finishing touches. The seat is in real blue-leather with ton sur ton seams and the handles also get a similar treatment. The scooter also gets the exclusive "Christian Dior Paris" logo decal on the side of the body panel and there is also an option to personalise it. The hook placed under the saddle has the exclusive "Christian Dior" logo. The gold finish can be seen all over the scooter, it is integrated beautifully on the rims of the scooter, rearview mirrors, front face and on the handlebar grips as well. The scooter houses the same 125cc single-cylinder, air-cooled, fuel-injected engine that makes 11PS of power and 10Nm of torque.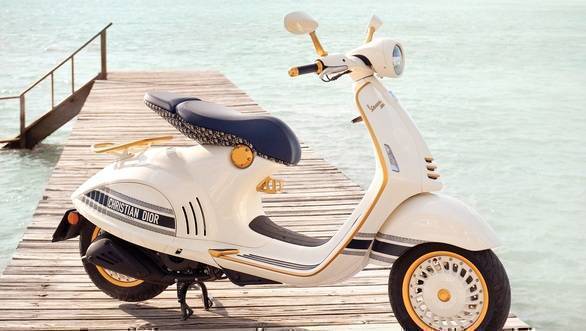 Michele Colaninno, CEO of the Immsi Group and Piaggio's Chief of Product and Marketing Strategy said, "In these unprecedented times, it is great to be able to dream of a better future. The House of Dior opened its doors in 1946 in Paris, the same year that Vespa made its debut in Italy. This new Vespa 946 celebrates that anniversary and honours our heritage. Today, like yesterday, we have gone through a dark period and now we are joining forces to share some joie de vivre through a combination of style and craftsmanship. This partnership between Vespa and Dior represents a celebration of beauty."