Two zero-emission Nissan e-NV200s delivered to the Palace of Monaco
Japanese car maker, Nissan has delivered two zero-emission e-NV200 Evalia MPVs to the Sovereign Prince of Monaco, H.S.H. Prince Albert II at a handover ceremony held at the Palace of Monaco. These two electric MPVs will be used as on-site delivery vehicles and for transporting a variety of goods as well as people across the historic estate.
"Offering true zero-emission mobility, the e-NV200s will contribute to the Palace's strategy to reduce the estate's greenhouse gas emissions as part of a wider sustainability action plan implemented in Monaco by the Prince," said the company in an official statement.
Commenting on the addition of the e-NV200s to the Palace's vehicle fleet, Prince Albert said: "Reducing our greenhouse gas emissions is vital and our country has set ambitious targets. Our aim is to achieve a 50 percent decrease in carbon emissions by 2030, with the ultimate goal of being carbon neutral by 2050."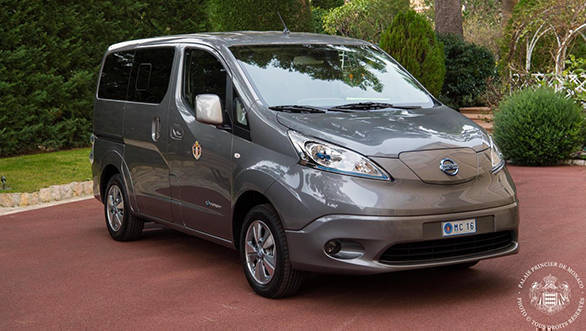 Paul Willcox, Chairman, Nissan Europe said: "As a society we face considerable environmental challenges but with zero tailpipe emissions, electric vehicles offer a solution that can help tackle these challenges head on."
"With the introduction of the Nissan LEAF and e-NV200, we have spearheaded the move towards smarter, greener mobility and we're delighted that governments and leaders across Europe are switching on to the benefits of all-electric motoring."