TVS Himalayan Highs Season 2 in India Book of Records
TVS' second season of Himalayan Highs had 11 lady riders from all over the country, who rode their scooter to the world's highest motorable road. The group was led by Anam Hashim, the same girl who had ridden to Khardung La on a Scooty Zest last year for Himalayan Highs Season 1. This time around, she was accompanied by Megha Chakraborty, Kainoor Mistry, Roshni Somkuwar, Garima Kapoor, Ebronah Dorothy, Pallavi Fauzdar, Antara Pal, Trupti Sarmalkar, Surbhi Tiwari and Shruthi Naidu.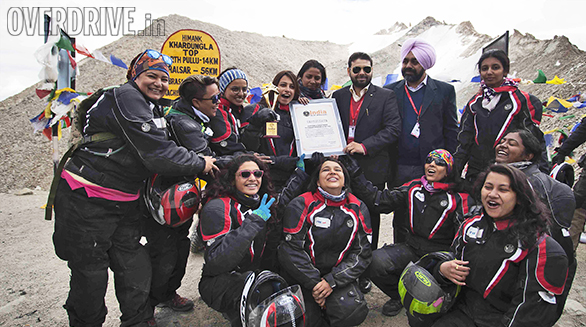 The women started the ride from Mandi, Himachal Pradesh on August 11, 2016 and completed it by August 21, 2016. They rode their TVS Scooty Zest 110 through Manali, Jispa, Sarchu and Pang as they made their way towards Leh. From Leh, the group headed towards Khardung La – the world's highest motorable pass. The group scaled the pass on August 21, 2016. The feat has earned the group an entry in the India Book of Records. They are now the largest group of women to scale Khardung La on 110cc scooters.
"The Season 2 of Himalayan Highs has been a grand success, and we are elated that the initiative was recognized by the India Book of Records," said Aniruddha Haldar, vice president of marketing (scooters), TVS Motor Company. "The riders showed true grit and determination battling the weather and altitude, while they rode TVS Scooty Zest 110 to the record books. This month has been a month of highs for the Indian women across the globe, and we are happy our riders have also earned glory. These 11 women riders are an example of the new-age Indian women and an inspiration to those who want to pursue their dreams."
The ride proved to be a mentally and physically demanding affair. "It wasn't an easy ride to the top as our mental and physical fitness was put to the test with the unpredictable weather and harsh environment," said Anam. "The nimble, however, strong and powerful TVS Scooty Zest 110 yet again proved to be a wonderful, able and reliable companion to the girls as they rode to Khardung La without a hitch."
Also see:
Eleven TVS Scooty Zest 110s conquer Khardung La
Image gallery: TVS Himalayan Highs Season 2
2014 TVS Scooty Zest 110 India first ride
Comparison: Mahindra Gusto vs Suzuki Let's vs TVS Scooty Zest 110
Price (Ex-Delhi)
Starts Rs 59,925