Triumph opens new showroom in Pune
Triumph has opened its third showroom in India. The B. U Bhandari Triumph showroom is located on Pashan road in Pune. Its a comprehensive showroom complete with its own service centres with dedicated bays and a well stocked parts inventory. Besides a well stocked facility with almost all the machines Triumph has on offer, the showroom also has an apparel and accessories section.
The iconic British marque has been on India for about five months now and in that time it's managed to garnered an impressive 335 bookings across five model ranges. With this kind of a response it looks like Triumph is ready to take the fight to Harley-Davidson, the most successful 'big bike' seller in India.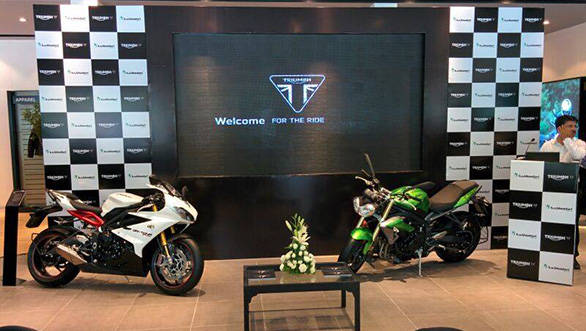 Triumph has a natural advantage over the American icon considering that they sell everything from street bikes to sport bikes to cruisers and even adventure bikes. Harley meanwhile specialises in just one category - cruisers.
This showroom follows the first two that were set up in Bangalore and Kochi respectively. Triumph plans on opening two more showrooms in the month of May. One in Mumbai and the other in Ahmedabad. All in all the company plans to have nine functional showrooms by the end of this year
Triumph Pune showroom launch press release
Triumph Motorcycles opens dealership in Pune * 335 Triumphant customers in under 20 weeks Pune, 30th April 2014: The celebrated British motorcycle brand Triumph Motorcycles India Private Limited today announced the opening of their dealership facility in Pune called B.U. Bhandari Triumph. This is the fourth dealership for Triumph Motorcycles in India, the first three being Bangalore and Hyderabad which were launched in January and & Kochi which was launched in April this year. Mr. Vimal Sumbly, Managing Director, Triumph Motorcycles India Pvt. Ltd. said, "Triumph Motorcycles is truly a legendary brand, our motorcycles have been burning the tarmac on the silver screen with some of the most loved actors on the planet 'riding' them from Steve McQueen to Clint Eastwood to Tom Cruise apart from winning laurels on race tracks. The ride quality and experience offered by a Triumph Motorcycle suits the individual needs of every biking enthusiast. The opening of the Pune dealership strengthens our commitment to not only better establish the brand in the local market but more importantly, to extend a comprehensive suite of after sales services and support to our esteemed customers. Pune has a lively biking culture with some great biking routes in and around the city. We are sure to get great response from the enthusiasts based here. We want to offer Triumph lovers not just a product but an overall experience that they deserve from a globally renowned brand like ours. Partnering with B.U. Bhandari which has state of the art dealership only facilitated it further. From the iconic Bonneville to the multi-award winning Daytona 675, and also the legendary Rocket, Triumph offers bikes that have a blend of character paired with intuitive handling, desirability and exceptional performance, giving it an unrivalled status. The Pune dealership has an ultra-modern showroom integrated with an after-sales service facility featuring service bays and a spare parts inventory. The design of the showroom is based upon the global signature Triumph Motorcycles layout with consultation lounge, sales and after sales desks all being close to the display area. The dealership also boasts of 'Build your own Bike', a novel concept in the premium and luxury motorcycle segment. The facility will have an array of Triumph merchandise which includes riding gear, accessories and memorabilia and will bring the same international standards of sales, service, spare parts and systems to the Indian market. The iconic brand also announced that they have clocked 335 bookings across 5 model categories and 2 more showrooms will be set up by 3rd May in Mumbai and Ahmadabad as part of the 9 dealerships planned for this year. Triumph's biggest success in India is its capability to provide the potential customer with a one of a kind experiential sales process followed by regular ride events hosted in operational dealerships. Mr. Shoeb Farooq, National Head, Sales and Dealer Development, Triumph Motorcycles India Pvt. Ltd. added, "We are enthused with the unbelievable initial response from Triumph aficionados. The experiential consumer rides offered at Triumph dealerships in Hyderabad and Bangalore has yielded excellent results and there has been a substantial jump of nearly 40% new enquiries in Bangalore & Hyderabad and we see expect to see the same trend in Pune as well. We are also convinced that the booking trend will continue to improve as we move closer to the start of sales with 6 functional dealerships across key cities within the next one month." Mr. Shailesh Bhandari, Dealer Principle, B.U. Bhandari Triumph, said, "We feel extremely honored to be associated with a renowned brand like Triumph Motorcycles. We at BU Bhandari, uphold customer satisfaction to the highest degree. It is because of this common ethos, that our partnership with Triumph Motorcycles is perfectly suited". The staff at B.U. Bhandari Triumph has been provided with intense training in management of sales, service, spare parts and business systems and customer service to ensure customers receive a best-in-class pre and post sales ownership experience keeping in mind the global standards. The team is trained by experts from Hinckley and the training is carried out in the Manesar plant. The legendary British motorcycle brand, Triumph Motorcycles, entered the Indian market with the launch of eleven of its renowned and prestigious models from the following categories; Classics, Roadsters, Adventure, Cruisers and Super sports. The much sought after line-up, includes the Iconic Bonneville and Bonneville T100, the legendary Speed Triple, the largest production motorcycle the Rocket III Roadster, the class leading Street Triple, the cool café racer the Thruxton, the go anywhere Tiger 800 XC and Tiger Explorer, the stripped back and black Thunderbird Storm and the king of super sports bikes, the Daytona 675 & 675R.