Triumph opens new dealership in Chennai
Triumph Motorcycles India Private Limited which is on a showroom opening spree in the country, has opened its latest in Chennai. Harbour City Triumph is the company's eighth dealership in the country and is located at 30, Ethiraj Salai, Egmore, Chennai. The brand will have its entire range of motorcycles available in India on display here.
Harbour City Triumph has an after-sales service facility attached to the showroom. As with all Triumph dealerships in India, this facility too has a consultation lounge, sales and after sales desks close to the display area. Triumph claims that they have so far received 450 bookings from the time they set up shop in India in November last year.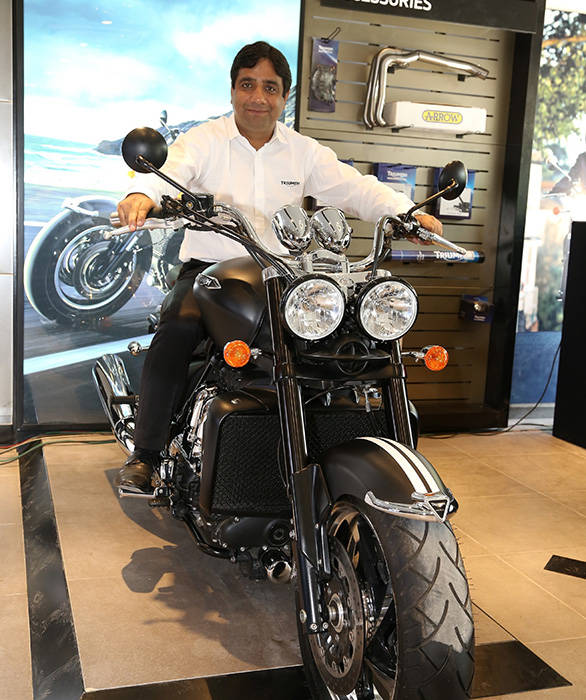 Vimal Sumbly, managing director, Triumph Motorcycles India Pvt. Ltd. said, "Our motorcycles have not only been winning laurels an the race tracks but have also been burning the tarmac on the silver screen with some renowned actors like Tom Cruise and Clint Eastwood 'riding' them in popular movies. The ride quality and experience offered by a Triumph Motorcycle suits the individual needs of every biking enthusiast. We want to offer Triumph lovers not just a product but an overall experience that they deserve from a globally renowned brand like ours. The opening of this dealership strengthens our commitment to better establish the brand in the local market. Chennai is an important city both commercially and as a hub for biking enthusiasts in India and we are expecting great response from the enthusiasts based here. "
Triumph Chennai dealership press release
Triumph Motorcycles expands its footprints in the South with a state of the art dealership in Chennai * 450 bookings crossed & 8th Showroom in India About Triumph Motorcycles: * Established in 1902, Triumph Motorcycles boasts of 112 years of authentic British brand pedigree with 28 models sold worldwide from 6 different super biking motorcycling categories * Based in Hinckley, Leicestershire, and has produced iconic bikes, which perfectly blend design, character, charisma and performance * Building around 50,000 bikes per year, Triumph is the largest British motorcycle manufacturer, and has more than 745 dealers across 54 countries in the world * UK's No.1 brand Triumph's philosophy is commitment to developing truly unique motorcycles that offer a blend of distinctive design, intuitive handling and performance. Triumph is the proud owners of the Triple Cylinder Technology * The innovation and engineering passion that gave birth to the iconic Bonneville of the 60's has today created a broad range of bikes suited to all motorcycle riders, including the striking 2.3 litre Rocket III, the legendary Speed Triple and the super-sports Daytona 675 * Triumph currently employs around 2,000 personnel worldwide and has subsidiary operations in the UK, America, France, Germany, Spain, Italy, Japan, Sweden, Benelux, Brazil, and now India, as well as a network of independent distributors. Triumph has manufacturing facilities in Hinckley, Leicestershire and Thailand plus assembly facilities in Brazil, and India * Gary Johnson and the Smiths Triumph Daytona 675R recently secured a thrilling victory in Supersport TT race 2014 Triumph Brand Ethos * Never motivated by fads or gimmicks. We apply our obsessive attention to detail to every single part, material, technology and test we run. Because we know that the more we can put into the development of our bikes, the more you will get out of them. We aim to create bikes that are so intuitive and engaging that they bring the very best out of every rider who rides them. We are chasing the same think you are. The perfect ride! Key Highlights, Triumph Motorcycles India * One of India's fastest growing luxury two wheeler brand * Launched on 28th November, 2013 with 10 class models across 5 Broad categories & each brand being winner in the respective category. Classics, cruisers, roadsters, adventure and super sports * With the launch of Daytona 675 at the Auto Expo 2014, Triumph Motorcycle now has 11 models for sale across 8 fully functional dealerships * Opens first store with new global brand identity in Bangalore followed by Hyderabad within 2 months of launch * 450 bookings clocked in 25 weeks * Rider groups started in Bangalore, Hyderabad and Kochi (Riders association of Triumph) in line with brand ethos – For the Ride Key Highlights, For the Ride - Consumer * Tie up with India's leading financial service provider HDFC & the world's leading lubricant manufacturer, Castrol to ensure top notch quality * Global branding across every store in India, with build your own bike concept and full stock of riding gear, accessories and clothing * 24 X 7 Customer service helpline – 1800 300 000 51 * 2 years unlimited mileage warranty on all the Motorcycles * Engaging social media presence both on Facebook and Twitter New Delhi, 9th June 2014: The celebrated British motorcycle brand Triumph Motorcycles India Private Limited today announced the opening of their dealership facility in Chennai called Harbour City Triumph. This is the eighth dealership for Triumph Motorcycles in India, the first seven being Bangalore, Hyderabad, Kochi, Pune, Mumbai, Ahmedabad and Delhi. From the iconic Bonneville to the multi-award winning Daytona 675, and also the legendary Rocket, Triumph offers bikes that have a blend of character paired with intuitive handling, desirability and exceptional performance, giving it an unrivalled status. Mr. Vimal Sumbly, Managing Director, Triumph Motorcycles India Pvt. Ltd. said, "Our motorcycles have not only been winning laurels an the race tracks but have also been burning the tarmac on the silver screen with some renowned actors like Tom Cruise and Clint Eastwood 'riding' them in popular movies. The ride quality and experience offered by a Triumph Motorcycle suits the individual needs of every biking enthusiast. We want to offer Triumph lovers not just a product but an overall experience that they deserve from a globally renowned brand like ours. The opening of this dealership strengthens our commitment to better establish the brand in the local market. Chennai is an important city both commercially and as a hub for biking enthusiasts in India and we are expecting great response from the enthusiasts based here. " The Chennai dealership has an ultra-modern showroom integrated with an after-sales service facility featuring service bays and a spare parts inventory. The design of the showroom is based upon the global signature Triumph Motorcycles layout with consultation lounge, sales and after sales desks all being close to the display area. The dealership also boasts of 'Build your own Bike', a novel concept in the premium and luxury motorcycle segment. The facility will have an array of Triumph merchandise which includes riding gear, accessories and memorabilia and will bring the same international standards of sales, service, spare parts and systems to the Indian market. The staff has been provided with intense training in management of sales, service, spare parts and business systems and customer service to ensure customers receive a best-in-class pre and post sales ownership experience keeping in mind the global standards. The team is trained by experts from Hinckley and the training is carried out in the Manesar plant. The legendary brand has also clocked 450 bookings across 5 model categories since its launch in November 2013. Triumph's biggest success in India has been its capability to provide the potential customer with a one of a kind experiential sales process followed by regular ride events hosted in operational dealerships. Triumph Motorcycles, entered the Indian market with the launch of eleven of its renowned and prestigious models from the following categories; Classics, Roadsters, Adventure, Cruisers and Super sports. The much sought after line-up, includes the Iconic Bonneville and Bonneville T100, the legendary Speed Triple, the largest production motorcycle the Rocket III Roadster, the class leading Street Triple, the cool café racer the Thruxton, the go anywhere Tiger 800 XC and Tiger Explorer, the stripped back and black Thunderbird Storm and the king of super sports bikes, the Daytona 675 & 675R. The showroom address is: Harbour City Triumph 30, Ethiraj Salai Egmore Chennai- 600008