Triumph Motorcycles India opens its 16th dealership at Mangalore
Triumph Motorcycles India has inaugurated its newest dealership in the country at Mangalore, in Karnataka. This dealership under the banner of Keerthi Triumph becomes the British motorcycle maker's 16th in India. The new Triumph Motorcycles dealership is located on the Bangalore-Mangalore Highway in Padil, Mangalore. The dealership also marks the company's foray into the tier-2 market in the southern part of the country. Triumph recently completed four years in India, and claims to have a base of 4,500 customers here.
Keerthi Triumph dealer principal Sanjay M and Triumph Motorcycles India MD Vimal Sumbly at the inauguration
Speaking at the inauguration, Triumph Motorcycles India MD Vimal Sumbly said, "We are suitably excited that the opening of this ultra-modern dealership coincides with us on the verge of entering our 5th year. Tier 2 markets are a strong focus for us and you'll see many more exciting developments from us in these unexplored markets soon," he stated. The tier-2 market could play a big role in popularising the British brand which has also entered into a non-equity partnership with Bajaj Auto to develop mid-range motorcycles for international markets.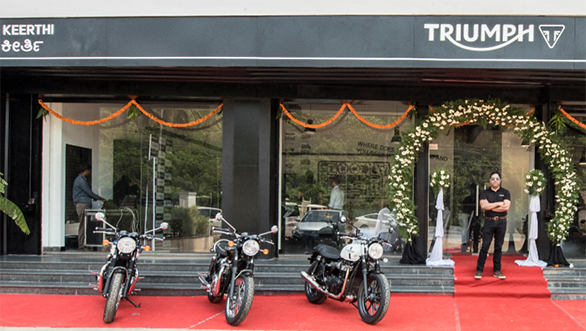 Along with Mangalore, the current dealership network includes New Delhi, Jaipur, Gurugram, Bhubaneshwar, Bangalore, Hyderabad, Indore, Vijayawada, Chandigarh, Mumbai, Pune, Ahmedabad, Chennai, Kochi and Kolkata.