Toyota's priority is to build and test 2017 WRC prototype extensively says Makinen
One year after four-time World Rally Champion Tommi Makinen mysteriously appeared during the Neste Oil Rally Finland with a strange prototype based on the GT86, accompanied by the President of Toyota, Akio Toyoda, a lot of things have been happening. Not the least the appointment of Tommi as the competition director for the new Toyota World Rally Car project, with the aim of his cars being on the start line of the opening round of the 2017 World Rally Championship. With what car? Who was going to build this? Who indeed was going to design it? Where in the world is all this going to take place? From every answer springs forth another set of questions. Anyway, who did we bump into walking through the service part at Jyvaskyla other than Tommi, who had a few minutes to spare for us!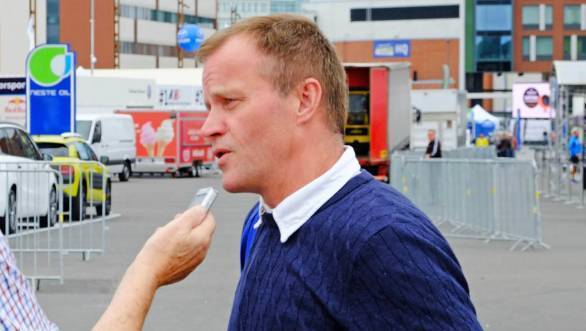 Looking to hire a young team is what Tommi Makinen had to say about the personnel that will be part of Toyota's 2017 WRC project
It was clear what the most pressing thought on Tommi's mind was. "This is going to be one of the busiest 18 months of my life. For sure, it is big challenge. A lot of things have already been taking place. I have been negotiating with different suppliers already and I think the package will start to build up soon. My current thought is to build up our design team. My target is to start our project during August (this month) and try to find support as much as needed from suppliers and build up a good package with positive attitude".
MH: It's a team without a home at the moment - how far have you gone with finding a permanent location for the team?
TM: That is not decided yet. Our target is to build the prototype here in Finland at Puuppola near Jyvaskyla at our current facility used for my Group N Subaru work. I would say in about one year's time, next summer, we need to be ready with our facilities. Wherever it will be in Finland. That is not yet decided.
MH: Any ideas where the team might be based? I think the new factory that you launched in Puuppola in 2004 is already occupied as a kindergarten? It is reported that you are presenting tenders to various cities in Finland to see which location will work best for you.
TM: Who knows! There are so many options at this time! We need to make decisions about our location, and that is what we are discussing with the Japanese. I would say mostly I need to follow very much the Japanese ideas, how they see we should work. We have discussed ideas a lot and during this weekend (at NORF) we will continue with that. I am sure very soon we will make a decision where we will be the future.
MH: What about the work of recruiting experienced engineers and technicians?
TM: I know pretty much the people I can trust and who are experienced. I feel very confident finding people around me for the project. My aim is to have younger people and young engineers and young mechanics. I trust young generation people very much. I always used to work with young people. I have seen how much potential there is in that area, they live in a different kind of world compared to people in my generation. They are used to playing with computers, they're used to having information from all over the world from different areas. But now it is most important to build up a design team quickly which is really experienced. It seems to be looking pretty good at the moment.
MH: People just from Finland, but what about also people from Estonia?
TM: Estonia is country with quite a lot big interest in rallying and we in TMR (Tommi Makinen Racing) have already had people from Estonia and they are doing very well. (Rallying-wise) Estonia is pretty interesting country overall.
MH: It is reported that whatever else is going on, the car to be used in the WRC project is going to be Yaris based. How is it, therefore, that you have been doing experiments with the GT86 car?
TM: The idea to build up a prototype GT86 came from Japan. Originally the idea was to build up a personal all-wheel drive car for Akio Toyoda, President of Toyota. That was the plan, and that was a very interesting project. For us it became a really good experience to see what happened when we fit the powerline and suspension geometry from the other cars, what it means when we change the roll centre and some other areas, with the behavioural wheelbase, everything like that.
MH: But this work is still going on?
TM: We carried out some improvements recently and this work is still continuing because we didn't cover very much test kilometres last year. We wanted to maintain the car generally and we did also some improvement development test with suspension area and I was really happy to do this for a couple of days. We went a long way in this work, and a big step forward. Now I feel very happy with the car, its handling and general behaviour, but this had no direct connection to World Rally Car. Our project now is to be exclusively the World Rally Car. We are finishing all other projects. We still have one new Subaru for customers and will be ready in a couple of days. As soon as possible I want to finish all of these and then we give maximum effort to the new project.
MH: How many people are working in your team at the moment?
TM: At the moment we will be employing around 15 to 20 people this year, not all at this time because while it is mainly design work and we don't immediately need to expand a lot. During this year we have something like 20, 25 people altogether but very soon we just keep employing as many as we need for the different areas of the work. Our priority is to build up a prototype and test this as much as possible. Then we must set up a car building programme ready to operate by October next year when we will have to start to build up production. Working this way, when this project is ready to go forward we will have all necessary people ready. We can then move on to other areas and continue developing the whole activity. We will go step by step forward towards the beginning of 2017.
MH: On a personal level, this is a huge commitment for you. Do you sometimes feel this is too big job for a 51 year old to start?
TM: Not at all. I feel very confident. I feel confident because I have seen the rally world from both sides of the windscreen. Because I used to drive a car, I understand a driver's needs. I can also see things from the other side. I have had experience of developing, testing and continually improving cars since from early '90s. I have a big experience from different areas. That makes me confident. It doesn't faze me to have the title of being the boss. Our target is to build up one of the best cars in the sport. Our target is to be here in the WRC, to be winning and I want to build up the team which has good feeling, with everybody here having fun and enjoying their job. My family definitely accepts this. In fact it is a family affair. My teenage son Henri is also doing good. He is actually working on documentation on some of our different projects, he is already part of TMR.