Toyota showcases performance spec Land Speed Cruiser at the 2016 SEMA show
The Toyota Land Cruiser is best suited for challenging surfaces and that is a proven fact. But then it is not the ideal vehicle for to scorching a race track, right? Toyota will prove you wrong with its latest build, the Land Speed Cruiser. Displayed at the 2016 SEMA show in Las Vegas, the twin turbo powered Land Speed Cruiser can hit a maximum speed of 220 mph (354kmph).
Powered by Toyota's 5.7-liter V8 motor, the Land Speed Cruiser produces an mind boggling 2,000PS of power. The motor is supported by a pair of Garrett turbochargers which swallows in air from the specially designed inlet mounted on the hood. Toyota states that the motor has been paired to a special race spec transmission developed by ATI. While The Japanese SUV manufacturer has not revealed much information, it is evident from the images that the Land Speed Cruiser sits lower than the regular model and also gets a large rear diffuser, a front splitter and a sleek spoiler. To make the body extremely aerodynamic, the conventional ORVMs have been given a miss and instead gets a set of cameras.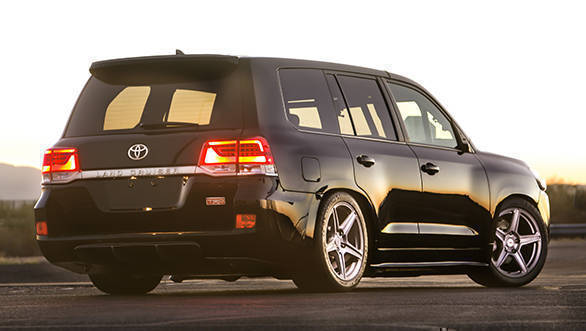 "From the outside, the Land Speed Cruiser appears quite normal, quite subtle," said motorsports technical center manager Chuck Wade, who built this vehicle with his team of engineers. He further added, "This is what makes it so special. Every single system and component has been touched. The trick is getting the body back onto the heavily modified frame."
In addition to the Land Speed Cruiser, Toyota also has the 2017 Land Cruiser along with the first generation 1961 Land Cruiser on display along with the brand's other specialty vehicles at the motor show. Whether this extreme one-off build will ever make it to production is anyone's guess. However, it is always interesting to see car manufacturers do such extreme experiments with their regular offerings.
Related Stories