Toyota sells more than 1.5 crore hybrids globally
In January 2020, Japan's largest carmaker Toyota became the first to sell more than 1.5 crore hybrid vehicles around the world. The first-generation Toyota Prius that launched in 1997 started this era of eco-friendly vehicles for the brand. Since then, Toyota claims that its hybrid vehicles have reduced CO2 emissions by more than 12 crore tonnes worldwide, when compared to conventionally powered cars.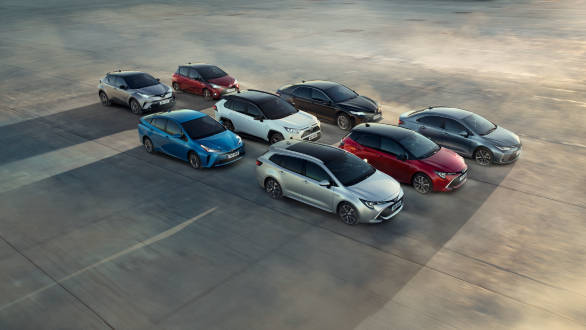 Toyota and Lexus now sell 44 electrified models worldwide, with Europe being the main market for this powertrain type for the company. Over 52 per cent of all Toyota hybrids are sold there. Toyota's hybrids were the first cars that made buyers conscious of eco-friendly motoring and provided an efficient alternative for drivers who were looking to make a difference. Currently, 23.5 per cent of all Toyota cars currently sold are PHEV.
Currently in its fourth generation, Toyota now says that its knowledge of hybrid powertrains has given it expertise in other electrification technologies that are currently being developed rapidly like plug-in hybrid EVs, battery EVs and fuel-cell EVs.  This will help Toyota meet the 95g/km fleet average CO2 emissions target set by the EU for 2020 and 2021 in Europe. The company thinks that all these forms of electrification will co-exist in the future, which gives it a further advantage.  As with other carmakers, BEVs are a big focus point for Toyota, the carmaker wants to sell a million BEVs globally by 2025. The company will launch a range of EVs to help with this goal, and partner with other Japanese firms like Subaru, Suzuki and BYD. Most of these cars will be based on the electrified version of the TNGA platform termed e-TNGA but the firm is looking to cover the full EV spectrum, right from two-wheelers to large SUVs.
In India, Toyota's hybrid vehicles have seen limited proliferation. This is mainly because of the high price point this tech demands and the lack of incentives for such powertrains in our market. The first Toyota hybrid to be sold in India was the last-gen Toyota Camry. This drivetrain is now available here on the new Camry, Vellfire alongside Lexus cars like the ES and LS sedans, LC coupe and NX and RX SUVs.
Price (Ex-Delhi)
Starts Rs 41.7 Lakhs