Toyota reveals a host of new safety technologies for 2015
Toyota Motor Corporation has just revealed a host of new technologies focused on increasing the safety of their existing lineup. This is all part of Toyota's strategy to eliminate serious injuries and fatalities in road traffic accidents in the future. OVERDRIVE travelled to Tokyo to learn a little bit about these technologies.
Toyota Safety Sense P is capable of shape detection
Toyota Safety Sense
This will feature a set of new active safety programs that include a pedestrian detection system, pre-collision system, automated high beam, lane departure system and radar guided cruise control. All these systems are designed to avoid or reduce the impact of an accident hence reducing the severity of injuries and eliminating fatalities. While none of these technologies are ground breaking and we have seen similar advances in safety from other manufactures like Volvo and BMW to name a few, the Toyota system stands out for being applicable to a much larger range of cars and not just the top of the line models.
Toyota Safety Sense C is designed for compact passenger cars
The Toyota Safety Sense C features a camera and laser sensor
The camera from the Safety Sense P sensor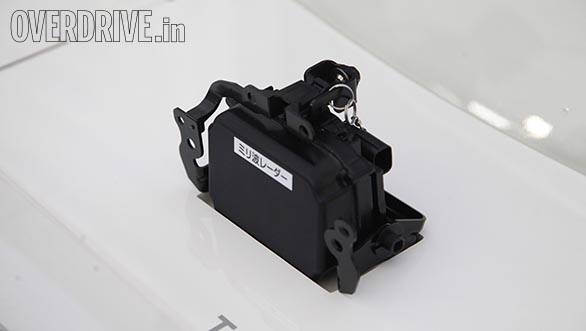 The millimetre-wave radar from the Safety Sense P system
They have done this by offering two packages in the active safety pre-collision detection system, namely the Toyota Safety Sense C that uses a more economical camera and laser based system for threat detection for compact cars. And the Toyota Safety Sense P for mid-sized to high-end cars that makes use of a more advanced combination of a camera and millimetre-wave radar that is capable of shape detection.
LED Array Lighting
Another new technology that will be rolled out in 2015 is the next-generation LED array lighting that features a new LED array adaptive high beam system that uses multiple independently controlled LEDs to give cars an 'intelligent' headlight beam. This allows for full illumination of the road ahead without blinding both preceding and oncoming drivers.
It will also feature an urban mode, that gives a wider spread of light and a highway mode that gives a more focused far reaching beam. The new LED Array Lighting system will also be directional so it will provide better illumination around corners as well.
A demonstration of the new parking camera system
New parking safety systems
Toyota have also made improvements to their Intelligent Clearance Sonar (ICS) technology that helps prevents parking mishaps. The new system now allows for increased scanning of depth and breadth to prevent damage to vehicle and property caused when you hit the gas instead of the brake or when you're not paying attention while parking. They have also created this cool panoramic view monitor that displays a driver's eye view of the immediate surroundings allowing you to pick up small hidden obstacles like a small child or that shopping bag you forgot to load.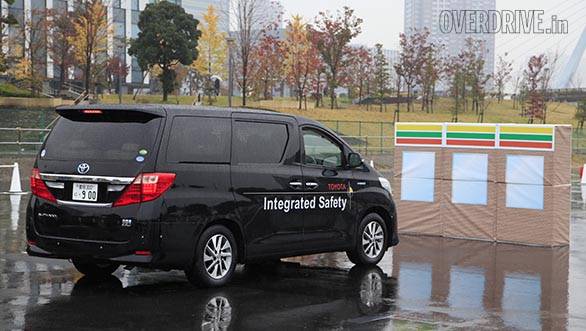 Intelligent Clearance Sonar will prevent you from hitting a wall in the parking lot
Vehicle Infrastructure Cooperative systems
Also next year, Japan will see some of Toyota's new vehicles equipped with a set of vehicle-to-vehicle and vehicle-to-infrastructure cooperative systems. These systems will use a dedicated ITS (Intelligent Transport Systems) frequency that's reserved for just such communication. This will allow vehicles to 'talk' to each other, relaying information like current speed and acceleration and deceleration. This comes useful in maintaining safe distances while cruising and improving on safety and efficiency. At intersections these systems allow the vehicle and the driver to get inputs from fixed systems mounted around the intersection that will warn of unseen pedestrians and vehicles approaching from blind spots. It will also let a driver know that an emergency vehicle is approaching, as in the case of a speeding ambulance, giving the driver advance notice to clear a path.
Display shows an alert for an approaching ambulance
Toyota will launch all these systems in 2015 and over the course of the next two years they will be rolled out across most of their passenger lineup in European, North American and Japanese markets. The price, they claim, will encourage widespread use of these safety systems. At the moment there's no word on any of these technologies making its way to the subcontinent in the near future.