Top 5 green cars available in India
Mahindra e2o:
The Mahindra e2o is a two-door hatchback and powered by an electric motor which produces 26PS and 54Nm of torque. The e20 has a range of around 120km on a single charge and features regenerative braking to help recover energy on the fly. The exterior styling is very similar to the discontinued Reva, which isn't surprising since the e20 is based on the Reva and Mahindra bought them over in 2010. While the e2o has zero tailpipe emissions, its actual emissions are indirect, as the electricity it charges off is produced mostly from thermal power plants. The Mahindra e2o is priced from Rs 5.92 lakh onwards (ex-Delhi).
Mahindra e-Verito:
The second greenest car on this list is another Mahindra offering, the soon to be launched e-Verito. Powered by a 3-phase 72V electric motor that churns out 41PS and 91Nm of torque, the e-Verito is claimed to have a top speed of 86kmph and a range of around 100km on a single charge. While a full charge takes eight hours, Mahindra is offering a fast charge mode on its top-of- the-line D6 trim, with a claimed one and a half hour charge time. The Mahindra e-Verito launched on June 2, 2016 with a starting price of Rs 9.5 lakh (ex-Delhi).
Toyota Prius:
The car that began the hybrid revolution is bound to feature on this list. Now it is in fourth generation, but India still offers the third-gen model with no signs of an upgrade anytime soon. The third-gen Toyota Prius is a series-parallel hybrid powered by a 1.8-litre petrol engine which makes 100PS and 142Nm of torque, paired to an 82PS and 207Nm electric motor. The Prius is amongst the greenest petrol powered cars on the market with an emission figure of 111g/km of CO2. Prices of the Toyota Prius start at Rs 38.1 lakh (ex-Delhi).
One of the greenest cars in India is also an executive sedan. The Toyota Camry is also offered in a hybrid powerplant, alongside the Prius. Powered by a 2.5-litre petrol engine producing 160PS paired to a 143PS electric motor, the Camry Hybrid features regenerative braking to recharge its lithium-ion battery. While it doesn't have as much energy saving tech as the Prius, the Camry Hybrid still has a very respectable CO2 emission figure of 140g/km.
The Ciaz is not only Maruti Suzuki's first hybrid but also the first mild hybrid car to come out of an Indian manufacturer. The hybrid system on the diesel Ciaz is called SHVS (Smart Hybrid Vehicle System) and features integrated starter motor for the start-stop system, a regenerative braking system, and a torque assist feature where the electric motor assists the engine during acceleration. Working in conjunction with a 1.3-litre DDiS engine, the Maruti Suzuki Ciaz SHVS gave a very impressive fuel-economy figure of 19.7kmpl on our road test.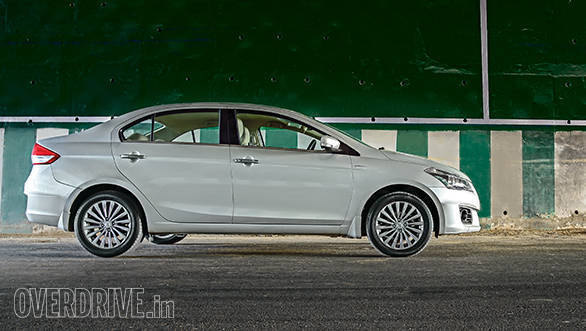 Price (Ex-Delhi)
Starts Rs 9.5 Lakhs
Price (Ex-Delhi)
Starts Rs 8.2 Lakhs
Price (Ex-Delhi)
Starts Rs 41.7 Lakhs