Tokyo Motor Show 2019: Lexus LF30 concept preview future performance EVs
In keeping with the heavy focus on electric vehicles at Tokyo Motor Show 2019, Lexus too has showcased its idea of what an EV from 2030 might look like with the Lexus LF30 concept. This is the first outcome of its 'Lexus Electrified' vision which is focused on delivering an electric car with big improvements in performance, handling, and driver engagement.
In keeping with this, the LF30 use four electric motors, one on each wheel, powered by a 110 kWh battery pack. The combined output is 544PS and 700 Nm. The LF30 has a 200 kmph top-speed and can get from 0 to 100 kmph in 3.8s. The concept weighs 2,400 kgs and has a WLTP-certified range of 500 km. The wheel-mounted motor setup of the LF30 allows it to feature something called Lexus Advanced Posture Control. This uses each motor output to position the car ideally during spirited driving. The car can switch between front, rear and all-wheel drive as required. Other tech includes a steer-by-wire system for better steering control Further, wireless charging and an AI-based energy management system allow for optimal use of electric power. Uniquely, there is also the 'Lexus Airporter' drone assistant as well as an autonomous mode with summoning functions.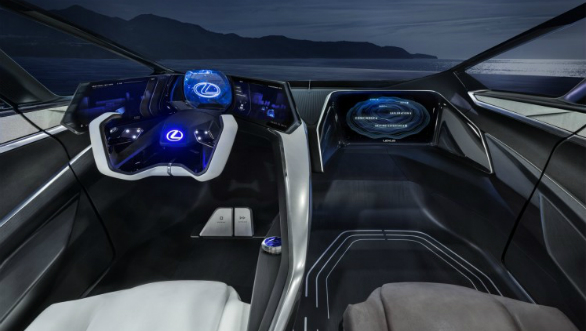 The LF30 concept styling is meant to convey the car's performance credentials. The EV architecture allows the Lexus spindle grille o now grow into the entire front fascia of the car. The front of the car and the sharp extended winged section are heavily swept back as is the almost full-length glass-area. The rear is the sharpest bit with the taillamps and the heavily cut end that converges into the middle. The side windows opacity can be adjusted by passenger and there is exterior lighting and luminescence on the body to depict which mode the car is being driven in.
The interior carries this aggressiveness forward with the focused driver cockpit that lets all functions stay within the driver's line of sight including navigation and audio system and driving-mode selection. Conversely, the passenger seat has been modelled around a first-class airline seat with a dedicated gesture-controlled screen. Further, there is an advanced Marc Levinson audio system with noise-cancelling speakers in the headrests. Other trick bits are the gesture-controlled glass roof and rear seats which use an artificial muscle technology for more comfort.
Price (Ex-Delhi)
Starts Rs 7.5 Lakhs