Tokyo Motor Show 2017: The Yamaha Motoroid Concept is AI on two wheels
'Kando', the Japanese concept of deep spiritual inspiration and satisfaction, has been a part of Yamaha's lingo for a long time now. The Yamaha Motoroid Concept  - or MOTOROiD as Yamaha likes to spell it - showcased at the Tokyo Motor Show 2017 though gives Kando an all-new definition. It is a concept motorcycle that boasts Artificial Intelligence and cannot only communicate but also interact with its rider. AI in fact seems to be the newest buzzword in the automobile industry, and manufacturers seem to be in a hurry to offer automobiles that will do a lot more than merely transporting humans from point A to point B. The Motoroid Concept's design is as radical as it gets, and in fact looks like something Neo would ride in the next Matrix sequel. Come to think of it the Motoroid Concept barely looks like a motorcycle except for the seat and the handlebars that will call for some serious stretching to reach out to.
The fact that there's lots of carbon fibre all round and racing slicks from Bridgestone certainly hint at the concept's sporty aspirations. What appear like shiny aluminium cans of energy drinks from a distance are actually lithium-ion battery packs that power the Yamaha Motoroid Concept.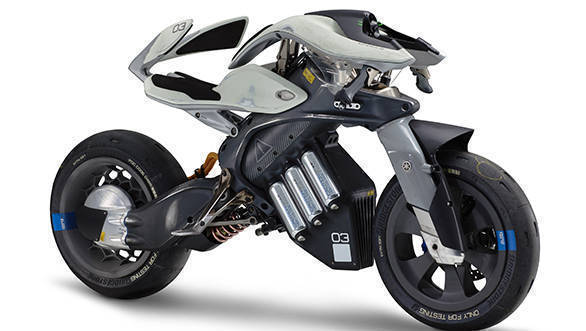 The hub motor is placed in the rear wheel itself to reduce losses. Coming to the AI bit, the Yamaha Motoroid Concept will probably use millions of sensors to read the rider's biometrics, understand his/her movements and behaviour onboard as well. Yamaha says the Motoroid Concept will adapt to various riding styles and even adjust the motorcycle to suit the rider better.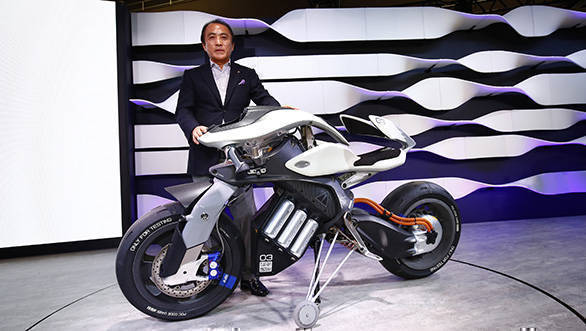 It will recognise the rider and understand his commands, get off the side stand and wheel itself to him and take him for a ride (Err… isn't the rider supposed to ride the motorcycle?). This AI points to a technology that could be similar to what Honda showcased on its self-balancing Riding Assist e. There's still some time before the motorcycles start taking us for a ride, but we're now convinced the engineers at Yamaha's new Innovation Centre that it opened late last year are on the job.