Tokyo motor show 2017: Suzuki e-Survivor SUV concept unveiled
The 45th Tokyo Motor Show scheduled to happen between October 27th to November 5, 2017. Among the many launches and offerings that will be there at the motor show, the Suzuki pavilion will have an interesting (quirky?) looking concept called the e-Survivor. The Suzuki e-Survivor, from images, comes across an all terrain SUV concept and as one can notice the "e" in the model name, it will be an all-electric offering.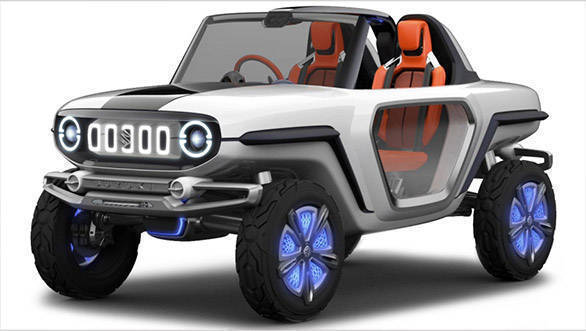 The Suzuki e-Survivor SUV, as stated by the company, inherits the magnetic identity of Suzuki from the Jimny and the Vitara. According to our interpretation of this line, the Suzuki e-Survivor will have the off-road potential of the Jimny that can be seen with the large wheels housed in those bir arches and the see through doors. The upcoming SUV will have a compact ladder on frame construction. At the same time, the Suzuki e-Survivor will have features and other comfort elements from the flagship SUV, the Vitara. The concept features rear view cameras instead of mirrors whereas the dashboard sports screens that house the infotainment controls and navigation settings.
The powertrain options that will be doing duty in the Suzuki e-Survivor SUV have not been announced. However, Suzuki will be offering an electric four-wheel-drive on the SUV. We believe that electric powertrains are the direction in which Suzuki will progress ahead and the e-Survivor concept is a preview of things to expect from the Japanese automobile manufacturer. The Suzuki e-Survivor is believed to enter production in 2020. For more details of the Suzuki e-Survivor at the Tokyo motor show 2017, stay tuned to OVERDRIVE for live coverage