TNGA has helped reform Toyota's design language
The Toyota New Global Architecture (TNGA) has spawned a series of modular platforms that the carmaker has started putting in production from 2015. The TNGA already (or will) provides underpinnings for various body styles ranging from hatchbacks and compact crossovers to luxury sedans and SUVs. While that certainly gives it plenty of versatility to spawn cars of varied segments and applications, TNGA's modular arrangement has also helped lower the centre of gravity across various body styles. That has not only helped Toyota engineer better driving dynamics but also enabled the designers to break away from the 'boring' designs that Toyota was ridiculed for, for quite some time.
Toyota C-HR
"TNGA also liberates vehicle design, enabling rooflines and bonnets to be lower and resulting in each model being visually distinctive with more appealing proportions," says Kevin Hunter, president of California based Calty Design Research studio.
The previous platform wasn't the only hurdle for the designers. Toyota's fabled reliability comes courtesy of prioritising engineering, manufacturing and quality, and the fine-tuning of these attributes left the exterior and interior design as a mere byproduct of the process involved. Much like Tata, before Pratap Bose and team were given a free hand to create cars like the Tiago, Tigor and the Nexon.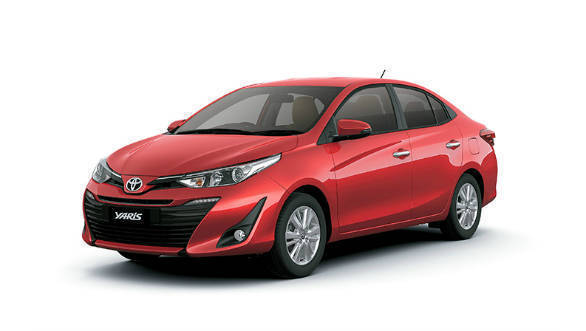 Toyota
Furthermore, Toyota has been known to play it safe when it came to design. Instead of going radical with the design, which ends up polarising the prospective customers, Toyota created designs that were neutral and in turn, boring. But a new directive from top boss Akio Toyoda, is now changing things for the brand. He doesn't want to see any drab designs anymore. Design innovation, therefore, is now a higher priority than before at Toyota and is involved with the engineering and quality teams at a very early stage. The upcoming cars like the new Toyota Yaris (not TNGA) and Camry and forward-looking designs seen on cars like the new Toyota Prius and the Toyota C-HR (not sold to us) reflect that.
Toyota FT-1 Concept
In fact, the aforementioned Calty Design Research studio has played a key role in revamping the design direction for the brand. It was also responsible for the design direction seen on the concepts like the stunning FT-1, which previews the next-generation Supra and aims to restore Toyota as a brand to be taken seriously even in the leisure space.
Source:  Go Auto
Price (Ex-Delhi)
Starts Rs 9.29 Lakhs