Timo Bernhard breaks Nurburgring lap record in Porsche 919 Evo!
History was made today at the Nurburgring, with one very quick machine and one very quick driver. It saw the lap record at the Nurburgring topple, breaking, after 35 long years, Stefan Bellof's time of 6min 11.13sec. Bellof's record has stood since 1983, when he clocked the time in qualifying for a sportscar race in a Porsche 956. He was all of 25 years old.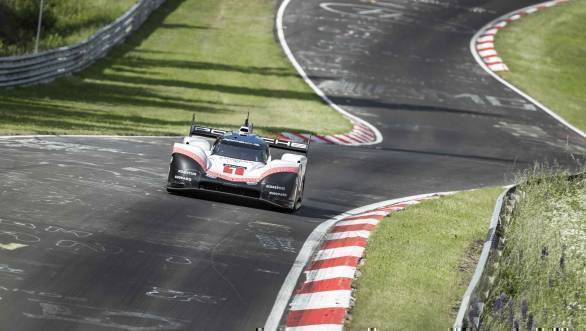 The Porsche 919 Evo now holds the lap record at the Nurburgring
The machine in which the record was broken today - the Porsche 919 Evo project. The man in the car - Timo Bernhard. Yes, that Timo Bernhard - who was part of Porsche's last win at the 24 Hours of Le Mans.
Timo Bernhard clocked a time of 5min 19.546 seconds, breaking Stefan Bellof's 35-year long record
The Porsche 919 Hybrid Evo managed to lob 52 seconds off the time set by Bellof back in 1983, with Bernhard managing to clock a time of 5min 19.546sec. In case you're wondering what the 919 Evo project is, it is Porsche's Le Mans-winning machine, but completely rid of WEC limitations. So, the car (can you call a beast like this a car?) boasts a power output of 1200PS and reportedly has 50 per cent more downforce than the original car.
What's remarkable about this particular record attempt is that it took all of one hour to break the outright Nurburgring lap time. In fact Bernhard's first run in the car at the 'Ring this morning, already broke the record, after which he kept putting in laps, finally setting a record of 5min 19.546sec. Another 35 years till someone breaks this record, then?
Don't miss the onboard footage of this milestone record attempt: