Lamborghini donates Huracan LP 610-4 Polizia to the Italian police
Lamborghini has donated a Huracan supercar to the Italian police. The Huracan LP 610-4 Polizia is a replacement for the Gallardo which the Italian police was using earlier since 2004. The Lamborghini Huracan has a 5.2 litre V10 engine, that produces 610PS and can reach speeds of over 325kmph. The Polizia car is equipped with a high-tech video system that is positioned in the center of the cabin with a camera that is fitted next to the rear view mirror. There is a computer and recording equipment behind the seats. On hearing of a suspicious driver, the "proof video data system" can be activated. The location, direction of movement and speed of the Lamborghini can be calculated, with the help of GPS data.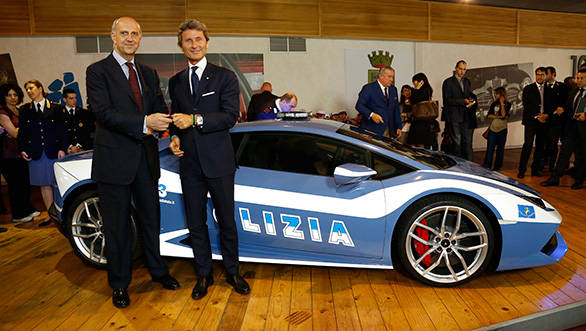 On combining this with the distance and time before intercept, an accurate speed of the vehicle being pursued can be determined. Using radio transmission, the video system transfers its images in real time to the relevant police station. This information can be used for automatic number plate retrieval and also to identify stolen vehicles.
 In addition, the Huracan also has provision for  a gun holster, police radio equipment, etc. there is also a 'Paletta'- a traditional hand-held  stop sigh to advise motorist and traffic offenders to pull over. There is a removable screen, complete with all associated data that officers can use to show the offenders their violation immediately.
 There's also a defibrillator and a refrigeration system which can be used to transport life saving organs in emergency situations.
 The roof-mounted lighting blue LEDs are supported by white LED signals on the front, sides and rear of the light's aluminum shell. A total of four sirens integrated into the front and rear of the Huracan generate unmistakable audible warning signals.
 In a statement, Lamborghini CEO Stephan Winkelmann said, 'We have a strong and fitting relationship with the Italian State Police. The new Lamborghini Huracan syands for Italian super sports car excellence and we are proud to provide it to the Italian State Police to carry out the specialist tasks these police cars undertake.''
Price (Ex-Delhi)
Starts Rs 3.22 Crore