The new S-Class makes driving easier for you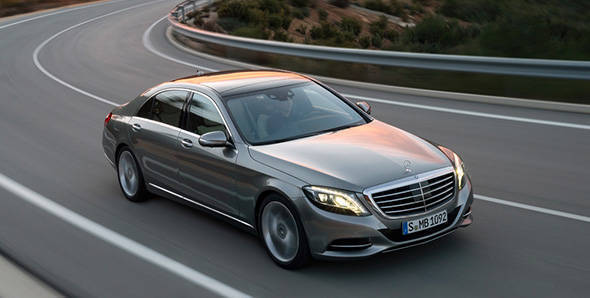 The car that drives itself – a complete fantasy just a decade ago, is a concept racing to reality at a faster rate than ever. We already have cars that can park themselves and cars that can adapt their speed on the highway relative to the vehicle ahead. Google has shown the world its own self driven technology while Audi showed off its own auto-piloted at the 2013 Consumer Electric Show in Las Vegas earlier this year.
Mercedes however doesn't claim that the new S-Class will drive itself, but it comes close enough. Sample this. The new S-Class can follow vehicles in traffic jams automatically, detect crossing vehicles and pedestrians and boost driven inputted braking pressure as required. It can detect when the lane adjacent is occupied or whether there is oncoming traffic in that lane and helps keep the car in its ownlane. Adaptive headlamps calculate the distance of oncoming traffic and automatically dip and raise the high beam so as to give the driver maximum visibility without blinding other motorists. Phew!
Mercedes of course claims that these features can't actually drive the car themselves but simply 'relieves the burden on the driver'. One of these primary relieving features is Distronic Plus, except it now gets Steering Assist and Stop&Go Pilot technology as well in the new S. Distronic Plus is essentially an adaptive cruise control system that keeps the car at the desired distance from a vehicle ahead that may be travelling at a slower speed than specified in your cruise control setup. The system can work from any speed between 0-200kmph. The new Steering Assist and Stop&Go system however generates a slight amount of steering movement to make sure you stay in the same lane even if the road bends slightly. The system uses radar and a stereo camera to recognize things like road markings and vehicles ahead and sends this information to the electronic steering. The result is a steering assist that helps drivers stay in the centre of their lane and also helps avoid accidentally (big cars have big blindspots) pulling out into the lane of an overtaking vehicle or reduce the damaging effects of doing so by bringing the vehicle back in line.
So the new S-Class doesn't drive itself, it just makes the job easier and safer for the driver. But there's no avoiding the fact that autonomous cars are not too far beyond the horizon. Like all advanced technologies they will be expensive at the start but as the costs begin to more and more cars will be able to drive themselves. The question is whether you want them to.