The Mercedes EQ Silver Arrow is the W125 Rekordwagen reimagined
Mercedes Benz has shown a new concept car called the Mercedes EQ Silver Arrow at Pebble Beach. This overly futuristic design draws heavily from the legendary Mercedes Silver Arrow race-cars from the pre-war era, most notably from the W125 from 1937.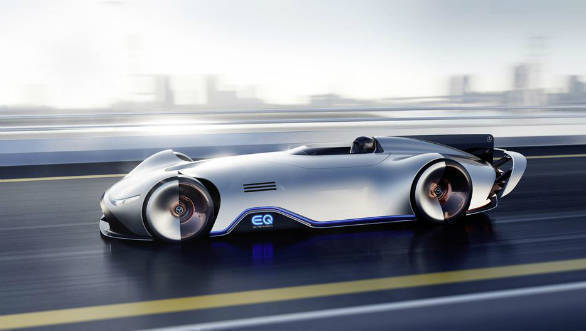 The W125 is best remembered for setting the record for the highest speed achieved on a public road. It clocked 432.7 kmph, a figure that remained unbeaten until last year. The modified W125 Rekordwagen put out 746PS from 5.5 litre V12.
The EQ Silver Arrow is designed as a futuristic ode to this car, featuring a similar long, swooping body design. The brushed unpainted aluminium colour of the original has also been recreated here in the carbon-fibre body structure. The EQ Silver Arrow is a single seater and comes with a well-appointed cabin trimmed in wood, leather and aluminium. A large panoramic screen in front of the driver serves as the instrument cluster. Those massive 24 in. front and 26 in. rear wheels shod in rose gold painted aluminium are another distinctive feature of the car. The EQ Silver Arrows dimensions, it is 17 feet long but only 3 feet high, further, add to the dramatic styling.
The concept is powered by an electric motor fed by a 70 kWh battery pack. This puts out 725PS and gives the EQ Silver Arrow a range of 400 km. Drivers who are unimpressed by an EV's silent functioning can choose to have the sound of a Mercedes-AMG V8 pumped into the cabin.
The Mercedes EQ Silver Arrows is the latest in a long line of futuristic concepts that the company have shown over the years. But this one is quite special in the way in which capture the brand's storied past and its way forward.
1937 Mercedes Benz W125 Rekordwagen